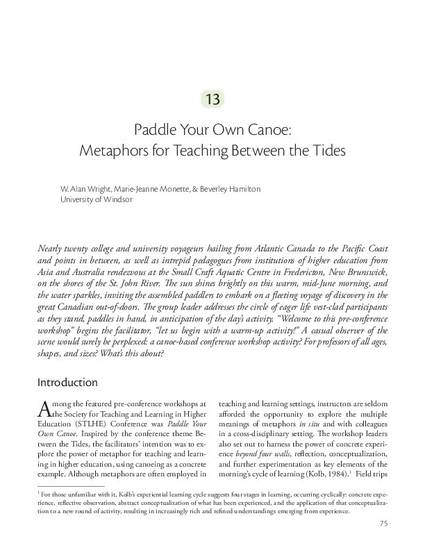 Article
Paddle Your Own Canoe: Metaphors for Teaching Between the Tides
Collected Essays on Teaching and Learning
Publication Date
1-1-2010
Keywords
metaphor in teaching and learning,
higher education
Abstract
Nearly twenty college and university voyageurs hailing from Atlantic Canada to the Pacific Coast and points in between, as well as intrepid pedagogues from institutions of higher education from Asia and Australia rendezvous at the Small Craft Aquatic Centre in Fredericton, New Brunswick, on the shores of the St. John River. The sun shines brightly on this warm, mid-June morning, and the water sparkles, inviting the assembled paddlers to embark on a fleeting voyage of discovery in the great Canadian out-of-doors. The group leader addresses the circle of eager life vest-clad participants as they stand, paddles in hand, in anticipation of the day's activity. "Welcome to this pre-conference workshop" begins the facilitator, "let us begin with a warm-up activity!" A casual observer of the scene would surely be perplexed: a canoe-based conference workshop activity? For professors of all ages, shapes, and sizes? What's this about?
Citation Information
Alan W. Wright, Marie-Jeanne Monette and Beverley Hamilton. "Paddle Your Own Canoe: Metaphors for Teaching Between the Tides"
Collected Essays on Teaching and Learning
Vol. 3 (2010) p. 75 - 82
Available at: http://works.bepress.com/beverley_hamilton/2/