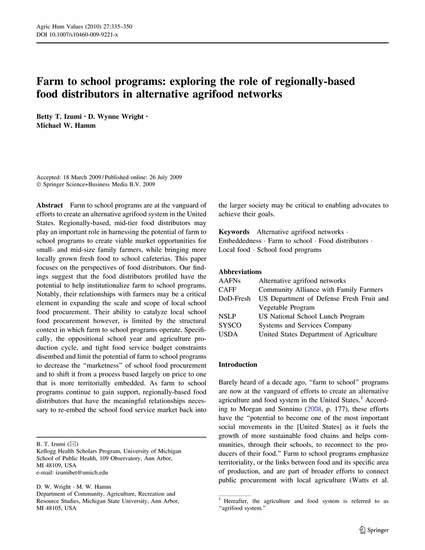 Article
Farm to school programs: exploring the Role of Regionally-Based Food Distributors in Alternative Agrifood Networks
Agriculture and Human Values (2010)
Abstract
Farm to school programs are at the vanguard of efforts to create an alternative agrifood system in the United States. Regionally-based, mid-tier food distributors may play an important role in harnessing the potential of farm to school programs to create viable market opportunities for small- and mid-size family farmers, while bringing more locally grown fresh food to school cafeterias. This paper focuses on the perspectives of food distributors. Our findings suggest that the food distributors profiled have the potential to help institutionalize farm to school programs. Notably, their relationships with farmers may be a critical element in expanding the scale and scope of local school food procurement. Their ability to catalyze local school food procurement however, is limited by the structural context in which farm to school programs operate. Specifically, the oppositional school year and agriculture production cycle, and tight food service budget constraints disembed and limit the potential of farm to school programs to decrease the "marketness" of school food procurement and to shift it from a process based largely on price to one that is more territorially embedded. As farm to school programs continue to gain support, regionally-based food distributors that have the meaningful relationships necessary to re-embed the school food service market back into the larger society may be critical to enabling advocates to achieve their goals.
Keywords
Local foods -- Health aspects -- United States
Publication Date
September, 2010
DOI
10.1007/s10460-009-9221-x
Citation Information
Betty T. Izumi. "Farm to school programs: exploring the Role of Regionally-Based Food Distributors in Alternative Agrifood Networks"
Agriculture and Human Values
Vol. 27 Iss. 3 (2010) p. 335 - 350
Available at: http://works.bepress.com/betty-izumi/15/