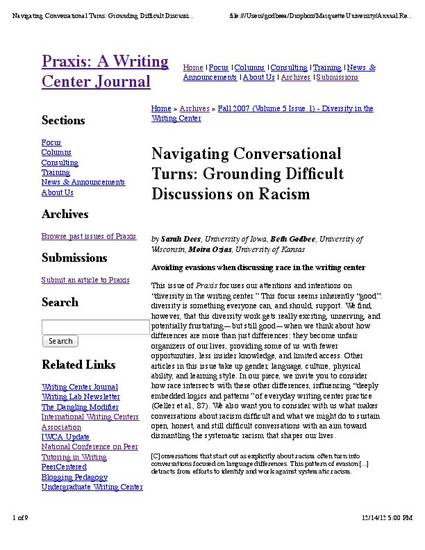 Article
Navigating Conversational Turns: Grounding Difficult Discussions on Racism
Praxis: A Writing Center Journal
Publication Date
10-1-2007
Publisher
University of Texas at Austin Undergraduate Writing Center
Abstract
Antiracism is not only worth our time and attention, but also a process of internal and external transformation—of looking critically within the writing center at the same time as looking outward to campus and community. Critical reflection often begins during staff meetings, colloquia, and conferences; however, there can be setbacks in these dialogues. What we have observed in professional development with predominantly white writing center members is that conversations that start out as explicitly about racism often turn into conversations focused on language differences. This pattern of evasion worries us, as it detracts from efforts to identify and work against systematic racism and leads to suggestions for changing individual writers, rather than institutions. By focusing on language differences, and by implication language change, we push aside analysis of systems and instead put the onus on individual students who are often most disadvantaged by those systems. To address this troublesome conversational turn, we first describe the pattern and then propose strategies for grounding conversations, strategies we have identified in the literature on teaching and organizing for social change.
Citation Information
Sarah Dees, Beth Godbee and Moira Ozias. "Navigating Conversational Turns: Grounding Difficult Discussions on Racism"
Praxis: A Writing Center Journal
(2007) ISSN: 2162-8114
Available at: http://works.bepress.com/beth_godbee/3/