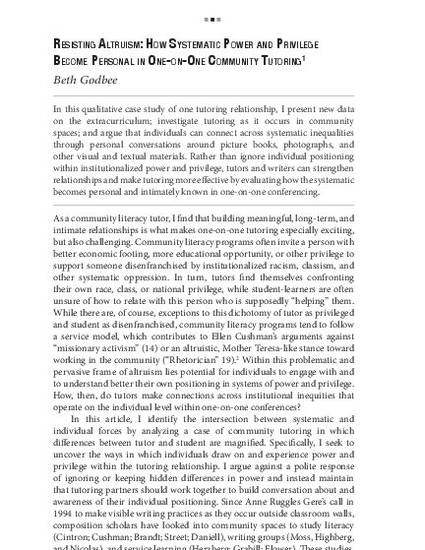 Article
Resisting Altruism: How Systematic Power and Privilege Become Personal in One-on-One Community Tutoring
Community Literacy Journal
Publication Date
4-1-2009
Publisher
DePaul University and University of Arizona
Abstract
In this qualitative case study of one tutoring relationship, I present new data on the extracurriculum; investigate tutoring as it occurs in community spaces; and argue that individuals can connect across systematic inequalities through personal conversations around picture books, photographs, and other visual and textual materials. Rather than ignore individual positioning within institutionalized power and privilege, tutors and writers can strengthen relationships and make tutoring more effective by evaluating how the systematic becomes personal and intimately known in one-on-one conferencing.
Citation Information
Beth Godbee. "Resisting Altruism: How Systematic Power and Privilege Become Personal in One-on-One Community Tutoring"
Community Literacy Journal
(2009) ISSN: 1555-9734
Available at: http://works.bepress.com/beth_godbee/10/