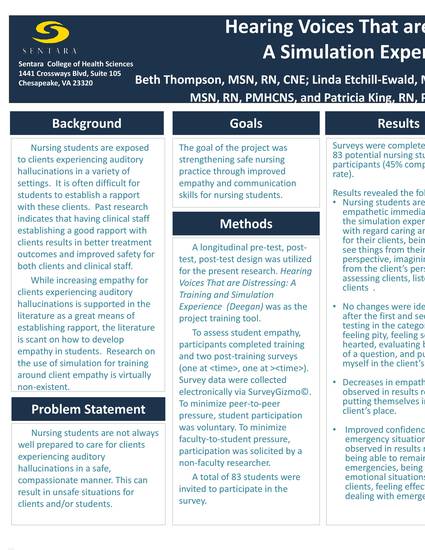 Presentation
Hearing Voices That are Distressing: A Simulation Experience
American Psychiatric Nurse's Association National Conference (2013)
Abstract
Nursing students are exposed to clients experiencing auditory hallucinations in a variety of settings. It is often difficult for students to establish a rapport with these clients. Past research indicates that having clinical staff establishing a good rapport with clients results in better treatment outcomes and improved safety for both clients and clinical staff. While increasing empathy for clients experiencing auditory hallucinations is supported in the literature as a great means of establishing rapport, the literature is scant on how to develop empathy in students. Research on the use of simulation for training around client empathy is virtually non-existent. Methods Results Goals Background Problem Statement The goal of the project was strengthening safe nursing practice through improved empathy and communication skills for nursing students. A longitudinal pre-test, post-test, post-test design was utilized for the present research. Hearing Voices That are Distressing: A Training and Simulation Experience (Deegan) was as the project training tool. To assess student empathy, participants completed training and two post-training surveys (one at , one at > ). Survey data were collected electronically via SurveyGizmo©. To minimize peer-to-peer pressure, student participation was voluntary. To minimize faculty-to-student pressure, participation was solicited by a non-faculty researcher. A total of 83 students were invited to participate in the survey. Nursing students are not always well prepared to care for clients experiencing auditory hallucinations in a safe, compassionate manner. This can result in unsafe situations for clients and/or students.
Publication Date
October 12, 2013
Citation Information
Beth Thompson, Patricia King and Linda Ewald. "Hearing Voices That are Distressing: A Simulation Experience"
American Psychiatric Nurse's Association National Conference
(2013)
Available at: http://works.bepress.com/beth-thompson/7/