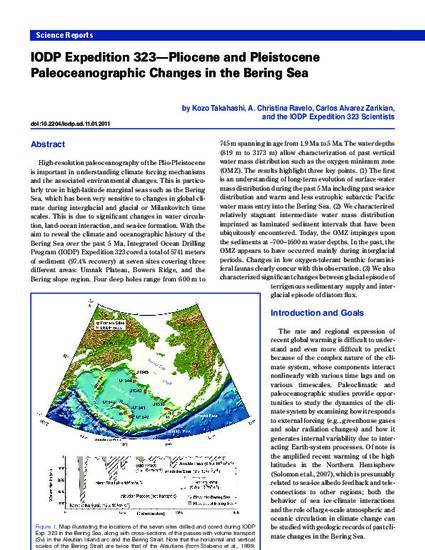 Article
IODP Expedition 323—Pliocene and Pleistocene Paleoceanographic Changes in the Bering Sea
Scientific Drilling (2011)
Abstract
High-resolution paleoceanography of the Plio-Pleistocene
is important in understanding climate forcing mechanisms
and the associated environmental changes. This is particularly
true in high-latitude marginal seas such as the Bering
Sea, which has been very sensitive to changes in global climate
during interglacial and glacial or Milankovitch time
scales. This is due to significant changes in water circulation,
land-ocean interaction, and sea-ice formation. With the
aim to reveal the climate and oceanographic history of the
Bering Sea over the past 5 Ma, Integrated Ocean Drilling
Program (IODP) Expedition 323 cored a total of 5741 meters
of sediment (97.4% recovery) at seven sites covering three
different areas: Umnak Plateau, Bowers Ridge, and the
Bering slope region. Four deep holes range from 600 m to
745 m spanning in age from 1.9 Ma to 5 Ma. The water depths
(819 m to 3173 m) allow characterization of past vertical
water mass distribution such as the oxygen minimum zone
(OMZ). The results highlight three key points. (1) The first
is an understanding of long-term evolution of surface-water
mass distribution during the past 5 Ma including past sea-ice
distribution and warm and less eutrophic subarctic Pacific
water mass entry into the Bering Sea. (2) We characterized
relatively stagnant intermediate water mass distribution
imprinted as laminated sediment intervals that have been
ubiquitously encountered. Today, the OMZ impinges upon
the sediments at ~700–1600 m water depths. In the past, the
OMZ appears to have occurred mainly during interglacial
periods. Changes in low oxygen-tolerant benthic foraminiferal
faunas clearly concur with this observation. (3) We also
characterized significant changes between glacial episode of
terrigenous sedimentary supply and interglacial
episode of diatom flux.
Publication Date
March, 2011
DOI
10.2204/iodp.sd.11.01.2011
Citation Information
Kozo Takahashi, A. Christina Ravelo, Carlos Alvarez Zarikian, Gilles Guèrin, et al.. "IODP Expedition 323—Pliocene and Pleistocene Paleoceanographic Changes in the Bering Sea"
Scientific Drilling
Vol. 11 (2011) p. 4 - 13
Available at: http://works.bepress.com/beth-caissie/13/
Creative Commons license
This work is licensed under a Creative Commons CC_BY International License.