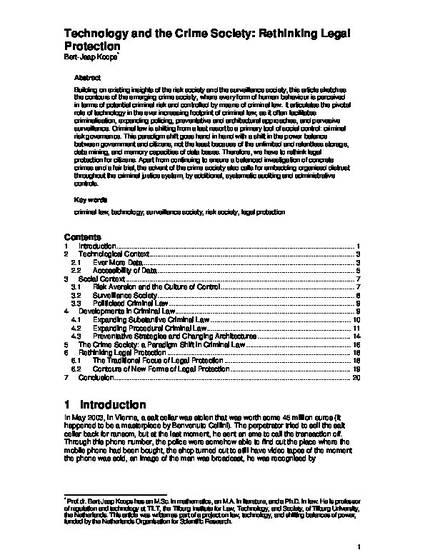 Unpublished Paper
Technology and the Crime Society: Rethinking Legal Protection
ExpressO (2009)
Abstract
Building on existing insights of the risk society and the surveillance society, this article sketches the contours of the emerging crime society, where every form of human behaviour is perceived in terms of potential criminal risk and controlled by means of criminal law. It articulates the pivotal role of technology in the ever increasing footprint of criminal law, as it often facilitates criminalisation, expanding policing, preventative and architectural approaches, and pervasive surveillance. Criminal law is shifting from a last resort to a primary tool of social control: criminal risk governance. This paradigm shift goes hand in hand with a shift in the power balance between government and citizens, not the least because of the unlimited and relentless storage, data mining, and memory capacities of data bases. Therefore, we have to rethink legal protection for citizens. Apart from continuing to ensure a balanced investigation of concrete crimes and a fair trial, the advent of the crime society also calls for embedding organised distrust throughout the criminal justice system, by additional, systematic auditing and administrative controls.
Keywords
criminal law,
technology,
surveillance society,
risk society,
legal protection
Publication Date
March 23, 2009
Citation Information
Bert-Jaap Koops. "Technology and the Crime Society: Rethinking Legal Protection"
ExpressO
(2009)
Available at: http://works.bepress.com/bert_jaap_koops/2/