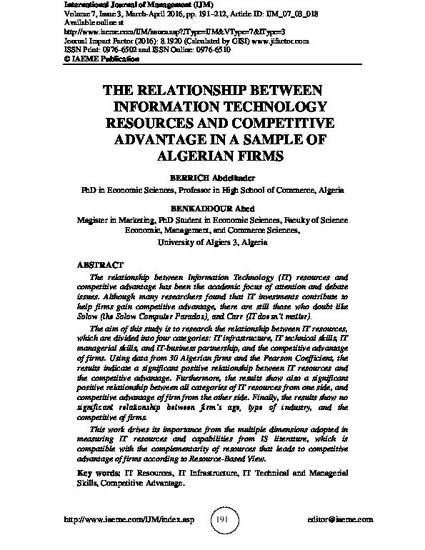 Article
THE RELATIONSHIP BETWEEN INFORMATION TECHNOLOGY RESOURCES AND COMPETITIVE ADVANTAGE IN A SAMPLE OF ALGERIAN FIRMS
International Journal of Management (IJM) (2016)
Abstract
The relationship between Information Technology (IT) resources and competitive advantage has been the academic focus of attention and debate issues. Although many researchers found that IT investments contribute to help firms gain competitive advantage, there are still those who doubt like Solow (the Solow Computer Paradox), and Carr (IT doesn't matter).
The aim of this study is to research the relationship between IT resources, which are divided into four categories: IT infrastructure, IT technical skills, IT managerial skills, and IT-business partnership, and the competitive advantage of firms. Using data from 30 Algerian firms and the Pearson Coefficient, the results indicate a significant positive relationship between IT resources and the competitive advantage. Furthermore, the results show also a significant positive relationship between all categories of IT resources from one side, and competitive advantage of firm from the other side. Finally, the results show no significant relationship between firm's age, type of industry, and the competitive of firms.
This work drives its importance from the multiple dimensions adopted in measuring IT resources and capabilities from IS literature, which is compatible with the complementarity of resources that leads to competitive advantage of firms according to Resource-Based View.
Keywords
IT Resources,
IT Infrastructure,
IT Technical and Managerial Skills,
Competitive Advantage
Publication Date
Spring April 1, 2016
Citation Information
Berrich Abdelkader and Benkaddour Abed. "THE RELATIONSHIP BETWEEN INFORMATION TECHNOLOGY RESOURCES AND COMPETITIVE ADVANTAGE IN A SAMPLE OF ALGERIAN FIRMS"
International Journal of Management (IJM)
Vol. 7 Iss. 3 (2016) p. 191 - 212
Available at: http://works.bepress.com/berrich-abdelkader/1/