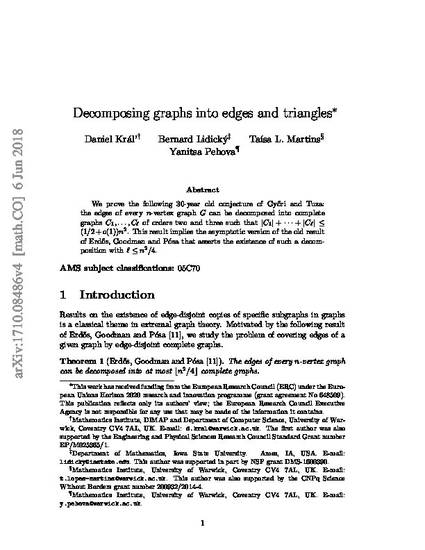 Article
Decomposing graphs into edges and triangles
Combinatorics, Probability and Computing
Publication Version
Submitted Manuscript
Publication Date
3-13-2019
DOI
10.1017/S0963548318000421
Abstract
We prove the following 30 year-old conjecture of Győri and Tuza: the edges of every n-vertex graph G can be decomposed into complete graphs C1,. . .,Cℓ of orders two and three such that |C1|+···+|Cℓ| ≤ (1/2+o(1))n2. This result implies the asymptotic version of the old result of Erdős, Goodman and Pósa that asserts the existence of such a decomposition with ℓ ≤ n2/4.
Copyright Owner
Cambridge University Press
File Format
application/pdf
Citation Information
Daniel Kral, Bernard Lidicky, Taisa L. Martins and Yanitsa Pehova. "Decomposing graphs into edges and triangles"
Combinatorics, Probability and Computing
(2019)
Available at: http://works.bepress.com/bernard-lidicky/44/