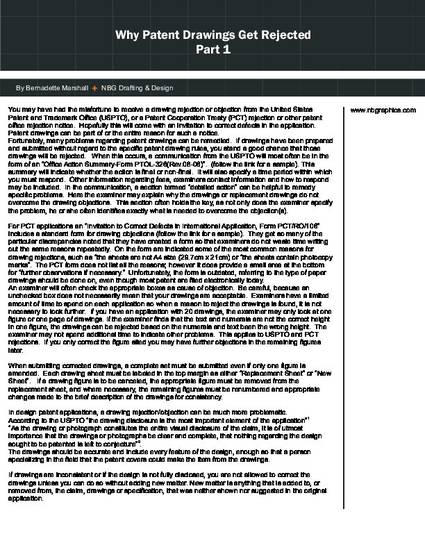 Article
Why Patent Drawings Get Rejected Part1
SSRN (2013)
Abstract
You may have had the misfortune to receive a drawing rejection or objection from the United States Patent and Trademark Office (USPTO), or a Patent Cooperation Treaty (PCT) rejection or other patent office rejection notice. Hopefully this will come with an invitation to correct defects in the application. Patent drawings can be part of or the entire reason for such a notice. Fortunately, many problems regarding patent drawings can be remedied. If drawings have been prepared and submitted without regard to the specific patent drawing rules, you stand a good chance that those drawings will be rejected. When this occurs, a communication from the USPTO will most often be in the form of an "Office Action Summary-Form PTOL-326(Rev.08-06)". (follow the link for a sample). This summary will indicate whether the action is final or non-final. It will also specify a time period within which you must respond. Other information regarding fees, examiners contact information and how to respond may be included. In the communication, a section termed "detailed action" can be helpful to remedy specific problems. Here the examiner may explain why the drawings or replacement drawings do not overcome the drawing objections. This section often holds the key, as not only does the examiner specify the problem, he or she often identifies exactly what is needed to overcome the objection(s).
Keywords
design and development,
utility,
trademark,
litigation
Publication Date
Winter February 1, 2013
Citation Information
Bernadette Marshall. "Why Patent Drawings Get Rejected Part1"
SSRN
(2013)
Available at: http://works.bepress.com/bernadette_marshall/7/