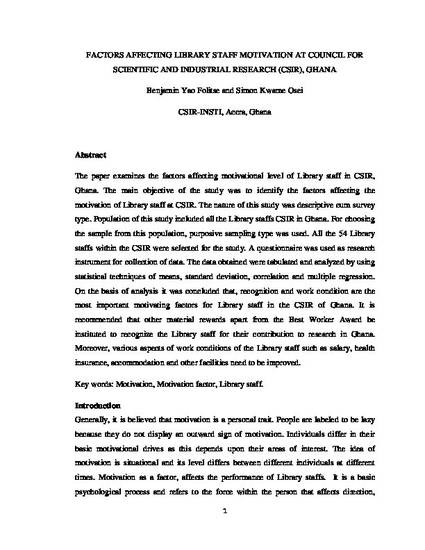 Article
FACTORS AFFECTING LIBRARY STAFF MOTIVATION AT COUNCIL FOR SCIENTIFIC AND INDUSTRIAL RESEARCH (CSIR), GHANA
Library Philosophy and Practice (2014)
Abstract
Abstract The paper examines the factors affecting motivational level of Library staff in CSIR, Ghana. The main objective of the study was to identify the factors affecting the motivation of Library staff at CSIR. The nature of this study was descriptive cum survey type. Population of this study included all the Library staffs CSIR in Ghana. For choosing the sample from this population, purposive sampling type was used. All the 54 Library staffs within the CSIR were selected for the study. A questionnaire was used as research instrument for collection of data. The data obtained were tabulated and analyzed by using statistical techniques of means, standard deviation, correlation and multiple regression. On the basis of analysis it was concluded that, recognition and work condition are the most important motivating factors for Library staff in the CSIR of Ghana. It is recommended that other material rewards apart from the Best Worker Award be instituted to recognize the Library staff for their contribution to research in Ghana. Moreover, various aspects of work conditions of the Library staff such as salary, health insurance, accommodation and other facilities need to be improved.
Keywords
Motivation,
Motivation factor,
Library staff.
Publication Date
Summer June 12, 2014
Citation Information
Benjamin Yao Folitse. "FACTORS AFFECTING LIBRARY STAFF MOTIVATION AT COUNCIL FOR SCIENTIFIC AND INDUSTRIAL RESEARCH (CSIR), GHANA"
Library Philosophy and Practice
(2014)
Available at: http://works.bepress.com/benjaminyao_folitse/1/