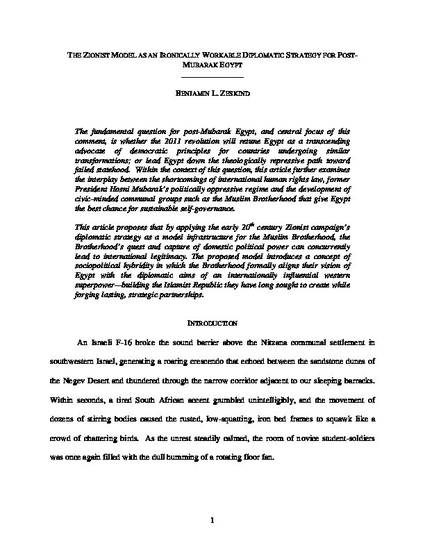 Unpublished Paper
The Zionist Model as an Ironically Workable Diplomatic Strategy for Post-Mubarak Egypt
ExpressO (2012)
Abstract
The fundamental question for post-Mubarak Egypt, and central focus of this comment, is whether the 2011 revolution will retune Egypt as a transcending advocate of democratic principles for countries undergoing similar transformations; or lead Egypt down the theologically repressive path toward failed statehood. Within the context of this question, this article further examines the interplay between the shortcomings of international human rights law, former President Hosni Mubarak's politically oppressive regime and the development of civic-minded communal groups such as the Muslim Brotherhood that give Egypt the best chance for sustainable self-governance. This article proposes that by applying the early 20th century Zionist campaign's diplomatic strategy as a model infrastructure for the Muslim Brotherhood, the Brotherhood's quest and capture of domestic political power can concurrently lead to international legitimacy. The proposed model introduces a concept of sociopolitical hybridity in which the Brotherhood formally aligns their vision of Egypt with the diplomatic aims of an internationally influential western superpower—building the Islamist Republic they have long sought to create while forging lasting, strategic partnerships.
Publication Date
January 18, 2012
Citation Information
Benjamin L Zeskind. "The Zionist Model as an Ironically Workable Diplomatic Strategy for Post-Mubarak Egypt"
ExpressO
(2012)
Available at: http://works.bepress.com/benjamin_zeskind/1/