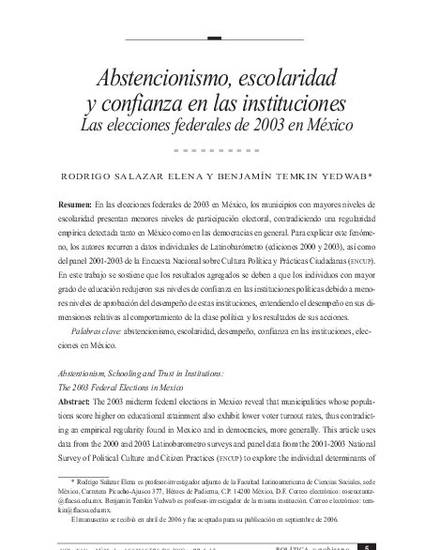 Article
Abstencionismo, escolaridad y confianza en las instituciones Las elecciones federales de 2003 en México
Política y Gobierno (2007)
Abstract
The 2003 midterm federal elections in Mexico reveal that municipalities whose populations score higher on educational attainment also exhibit lower voter turnout rates, thus contradicting an empirical regularity found in Mexico and in democracies, more generally. This article uses data from the 2000 and 2003 Latinobarometro surveys and panel data from the 2001-2003 National Survey of Political Culture and Citizen Practices (ENCUP) to explore the individual determinants of this aggregate finding. It argues that this municipal-level result is a product of the fact that more highly educated citizens reduced their levels of trust in political institutions. This study shows that declining levels of trust were themselves a result of a drop in citizen assessments of institutional performance, where performance is operationalized as citizen evaluations of the political class and of the results of its actions.
Keywords
electoral abstentionism,
schooling,
performance,
trust in institutions,
Mexican elections.
Citation Information
benjamin (benny) temkin and rodrigo salazar elena. "Abstencionismo, escolaridad y confianza en las instituciones Las elecciones federales de 2003 en México"
Política y Gobierno
Vol. VOL. XIV Iss. NÚM. 1 (2007)
Available at: http://works.bepress.com/benjamin_temkin/9/