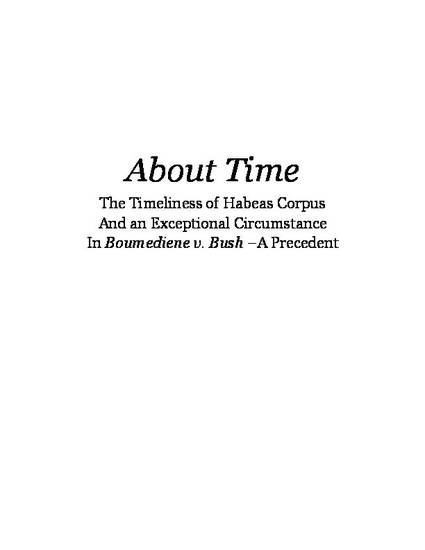 Unpublished Paper
About Time: The Timeliness of Habeas Corpus and an Exceptional Circumstance in Boumediene v. Bush
ExpressO (2009)
Abstract
In wartime states of emergency, the Supreme Court has historically held that a constitutional entitlement to habeas review is neither predicated on the length of detention nor the timeliness of due process, but rather is objective, concrete, and atemporal. The question of wartime habeas corpus has therefore always been an ontological question, exclusively determined by the corresponding categories of subject and space. However, this paper argues that a surreptitious shift in methodology buried inside the ostensible precedent of Boumediene v. Bush should not be overlooked, for the ruling signals the inaugural moment whereby the length and indefinite duration (i.e. the time) of an alien petitioner's wartime, extraterritorial confinement becomes dispositive for the Court. No longer are the twin categories of subject and space of exclusive relevance for determining wartime habeas corpus –rather, in 2008, some 6+ years after Boumediene petitioners' capture and detention, and 7+ years after the declaration of a global war of indefinite duration, it's also now about time.
Keywords
wartime habeas corpus,
extraterritoriality,
military detention,
enemy combatant cases
Publication Date
July 23, 2009
Citation Information
Benjamin J Lozano. "About Time: The Timeliness of Habeas Corpus and an Exceptional Circumstance in Boumediene v. Bush"
ExpressO
(2009)
Available at: http://works.bepress.com/benjamin_lozano/1/