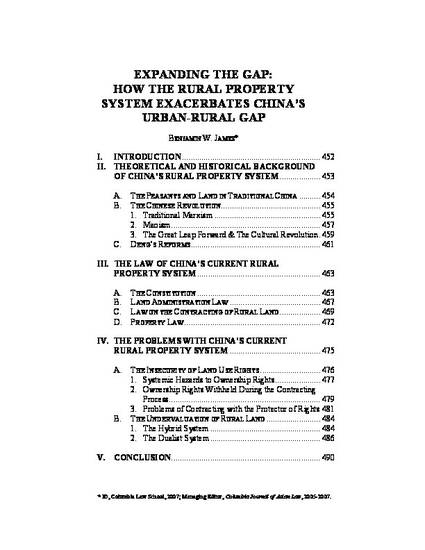 Article
Expanding the Gap: How the Rural Property System Exacerbates China's Urban-Rural Gap
Columbia Journal of Asian Law (2007)
Abstract
This paper asserts that one of the main reasons the wealth gap between China's peasants and city-dwellers persists and continues to widen is China's system of property laws, especially those that specifically govern rural real estate. The principal problem with the current rural property system is that it is a hybrid system – a mix of China's socialist past with significant changes toward a market-based future. This system marginalizes China's farmers by creating insecurities in their legal rights to operate rural land and by systematically undervaluing that land. As a result, Chinese peasants are deprived of both the protections and incentives necessary to invest in ways that will increase productivity and incomes, and are also prevented from capturing the value created by China's overall economic success.
Citation Information
Benjamin James. "Expanding the Gap: How the Rural Property System Exacerbates China's Urban-Rural Gap"
Columbia Journal of Asian Law
Vol. 20 Iss. 2 (2007)
Available at: http://works.bepress.com/benjamin_james/2/