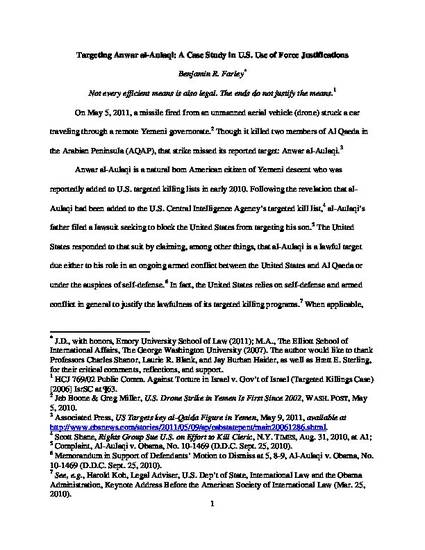 Unpublished Paper
Targeting Anwar al-Aulaqi: A Case Study in U.S. Drone Strikes and Targeted Killings
ExpressO (2011)
Abstract
Anwar al-Aulaqi is a natural born American citizen of Yemeni descent who was reportedly added to U.S. targeted killing lists in early 2010. The United States argues that al-Aulaqi is a lawful target due either to his role in an ongoing armed conflict between the United States and Al Qaeda or under the auspices of self-defense. In fact, the United States relies on self-defense and armed conflict in general to justify the lawfulness of its targeted killing programs. When applicable, each of these frameworks provides legal authority for a state to use force against an individual. However, neither framework provides a blanket justification—or a blanket prohibition—on the use of targeted killing. Instead, each framework provides authority for use of force, including targeted killings, when that framework's particular requirements are satisfied. This article argues that, although both self-defense and armed conflict provide authority for a state's use of force when their respective parameters are satisfied, self-defense fails to justify the continuous targeting of Anwar al-Aulaqi and other individuals on U.S. targeted killing lists. Rather, al-Aulaqi is likely justifiably targetable on a continuous basis due only to his direct participation in an ongoing armed conflict between AQAP and Yemen in which the United States is intervening.
Keywords
targeted killing,
drones,
terrorism,
international humanitarian law,
al-aulaqi,
al-awlaki,
self-defense
Publication Date
Fall August 2, 2011
Citation Information
Benjamin R Farley. "Targeting Anwar al-Aulaqi: A Case Study in U.S. Drone Strikes and Targeted Killings"
ExpressO
(2011)
Available at: http://works.bepress.com/benjamin_farley/1/