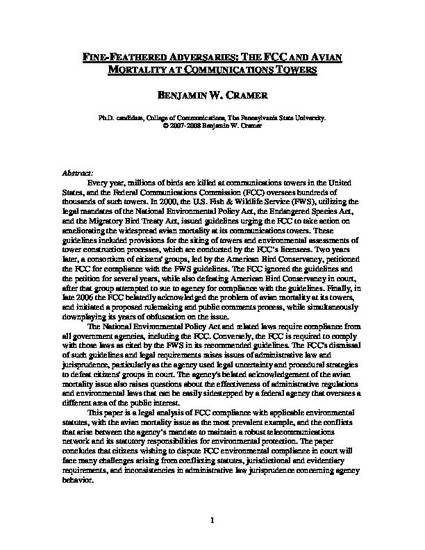 Unpublished Paper
Fine Feathered Adversaries: The FCC and Avian Mortality at Communications Towers
ExpressO (2008)
Abstract
Every year, millions of birds are killed at communications towers in the United States, and the Federal Communications Commission (FCC) oversees hundreds of thousands of such towers. In 2000, the U.S. Fish & Wildlife Service (FWS), utilizing the legal mandates of the National Environmental Policy Act, the Endangered Species Act, and the Migratory Bird Treaty Act, issued guidelines urging the FCC to take action on ameliorating the widespread avian mortality at its communications towers. These guidelines included provisions for the siting of towers and environmental assessments of tower construction processes, which are conducted by the FCC's licensees. Two years later, a consortium of citizens' groups, led by the American Bird Conservancy, petitioned the FCC for compliance with the FWS guidelines. The FCC ignored the guidelines and the petition for several years, while also defeating American Bird Conservancy in court, after that group attempted to sue to agency for compliance with the guidelines. Finally, in late 2006 the FCC belatedly acknowledged the problem of avian mortality at its towers, and initiated a proposed rulemaking and public comments process, while simultaneously downplaying its years of obfuscation on the issue. The National Environmental Policy Act and related laws require compliance from all government agencies, including the FCC. Conversely, the FCC is required to comply with those laws as cited by the FWS in its recommended guidelines. The FCC's dismissal of such guidelines and legal requirements raises issues of administrative law and jurisprudence, particularly as the agency used legal uncertainty and procedural strategies to defeat citizens' groups in court. The agency's belated acknowledgement of the avian mortality issue also raises questions about the effectiveness of administrative regulations and environmental laws that can be easily sidestepped by a federal agency that oversees a different area of the public interest. This paper is a legal analysis of FCC compliance with applicable environmental statutes, with the avian mortality issue as the most prevalent example, and the conflicts that arise between the agency's mandate to maintain a robust telecommunications network and its statutory responsibilities for environmental protection. The paper concludes that citizens wishing to dispute FCC environmental compliance in court will face many challenges arising from conflicting statutes, jurisdictional and evidentiary requirements, and inconsistencies in administrative law jurisprudence concerning agency behavior.
Publication Date
September 22, 2008
Citation Information
Benjamin W. Cramer. "Fine Feathered Adversaries: The FCC and Avian Mortality at Communications Towers"
ExpressO
(2008)
Available at: http://works.bepress.com/benjamin_cramer/1/