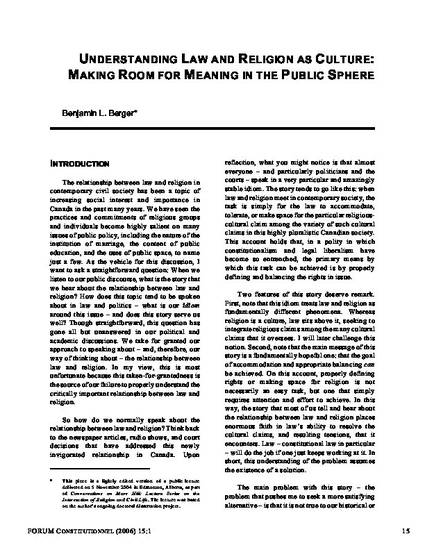 Article
Understanding Law and Religion as Culture: Making Room for Meaning in the Public Sphere
Constitutional Forum Constitutionnel (2006)
Abstract
The relationship between law and religion in contemporary civil society has been a topic of increasing social interest and importance in Canada in the past many years. We have seen the practices and commitments of religious groups and individuals become highly salient on many issues of public policy, including the nature of the institution of marriage, the content of public education, and the uses of public space, to name just a few. As the vehicle for this discussion, I want to ask a straightforward question: When we listen to our public discourse, what is the story that we hear about the relationship between law and religion? How does this topic tend to be spoken about in law and politics – what is our idiom around this issue – and does this story serve us well? Though straightforward, this question has gone all but unanswered in our political and academic discussions. We take for granted our approach to speaking about – and, therefore, our way of thinking about – the relationship between law and religion. In my view, this is most unfortunate because this taken-for-grantedness is the source of our failure to properly understand the critically important relationship between law and religion.
Citation Information
Benjamin L Berger. "Understanding Law and Religion as Culture: Making Room for Meaning in the Public Sphere"
Constitutional Forum Constitutionnel
Vol. 15 Iss. 1 (2006) p. 15 - 22
Available at: http://works.bepress.com/benjamin_berger/87/