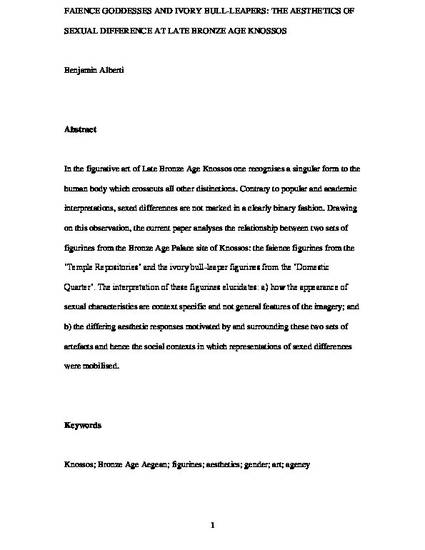 Article
Faience Goddesses and Ivory Bull-Leapers: The Aesthetics of Sexual Difference at Late Bronze Age Knossos
World Archaeology
Document Type
Book Review
Publication Date
1-1-2001
DOI
10.1080/00438240120079244
Abstract
In the figurative art of Late Bronze Age Knossos one recognizes a singular form to the human body which cuts across all other distinctions. Contrary to popular and academic interpretations, sexed differences are not marked in a clearly binary fashion. Drawing on this observation, the current paper analyses the relationship between two sets of figurines from the Bronze Age Palace site of Knossos: the faience figurines from the 'Temple Repositories' and the ivory bull-leaper figurines from the 'Domestic Quarter'. The interpretation of these figurines elucidates: a) how the appearance of sexual characteristics is context specific and not a general feature of the imagery; and b) the differing aesthetic responses motivated by and surrounding these two sets of artefacts and hence the social contexts in which representations of sexed differences were mobilized.
Citation Information
Benjamin Alberti. "Faience Goddesses and Ivory Bull-Leapers: The Aesthetics of Sexual Difference at Late Bronze Age Knossos"
World Archaeology
Vol. 33 Iss. 2 (2001) p. 189 - 205
Available at: http://works.bepress.com/benjamin_alberti/2/