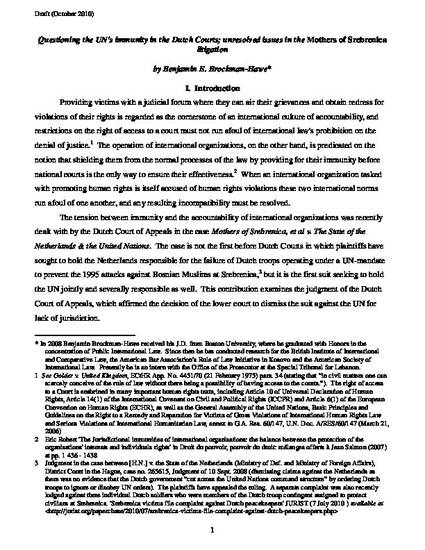 Unpublished Paper
Questioning the UN's immunity in the Dutch Courts; unresolved issues in the Mothers of Srebrenica litigation
ExpressO (2010)
Abstract
Providing victims with a judicial forum where they can air their grievances and obtain redress for violations of their rights is regarded as the cornerstone of an international culture of accountability, and restrictions on the right of access to a court must not run afoul of international law's prohibition on the denial of justice. The operation of international organisations, on the other hand, is predicated on the notion that shielding them from the normal processes of the law by providing for their immunity before national courts is the only way to ensure their effectiveness. When an international organization tasked with promoting human rights is itself accused of human rights violations these two international norms run afoul of one another, and any resulting incompatibility must be resolved.
The tension between immunity and the accountability of international organisations was recently dealt with by the Dutch Court of Appeals in the case Mothers of Srebrenica, et al v. The State of the Netherlands & the United Nations. The case is not the first before Dutch Courts in which plaintiffs have sought to hold the Netherlands responsible for the failure of Dutch troops operating under a UN-mandate to prevent the 1995 attacks against Bosnian Muslims at Srebrenica, but it is the first suit seeking to hold the UN jointly and severally responsible as well. This contribution examines the judgment of the Dutch Court of Appeals, which affirmed the decision of the lower court to dismiss the suit against the UN for lack of jurisdiction.
Publication Date
October 28, 2010
Citation Information
Benjamin E. Brockman-Hawe. "Questioning the UN's immunity in the Dutch Courts; unresolved issues in the Mothers of Srebrenica litigation"
ExpressO
(2010)
Available at: http://works.bepress.com/benbh/8/