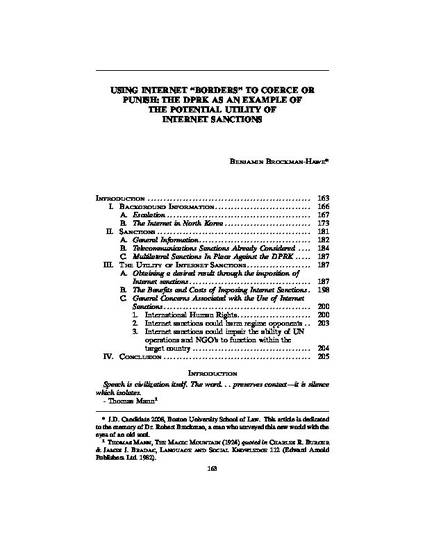 Article
Using Internet 'Borders' to Coerce or Punish
Boston University J. Intl L. (2007)
Abstract
The prevailing ideology of the 1990's reflected widespread dissatisfaction with the inadequacy and negative humanitarian consequences of broad multilateral economic sanctions.3 This in turn provoked a search on the part of NGO's, states, UN agencies and academic institutions for an alternative sanctions approach that would remove the significant burden traditional economic sanctions placed on vulnerable segments of society while accomplishing the objectives for which they were imposed. The result of these cooperative efforts - the conceptualization and implementation of "smart" sanctions over the next decade - reformed the multilateral sanctions regime in fundamental ways. The agencies and procedures collectively instituted in the late 1990's effectively penalized those individuals specifically responsible for the violation of international norms, avoided many of the detrimental widespread humanitarian crises' sanctions can cause and achieved the desired goals with growing frequency. Without a doubt the range of legal and policy questions the use of Internet sanctions implicates are legion. It is not the purpose of this note to attempt to address or resolve all of these associated questions; rather, it is merely to begin the dialogue on some of the most fundamental issues relating to the potentiality that internet 'borders' will be exploited as enforcement mechanisms. To that end the concept of Internet sanctions will be examined in light of their potential application to a country where their use could be effective and desired; the Democratic People's Republic of Korea (the DPRK or North Korea).
Citation Information
Benjamin E. Brockman-Hawe. "Using Internet 'Borders' to Coerce or Punish"
Boston University J. Intl L.
(2007)
Available at: http://works.bepress.com/benbh/6/