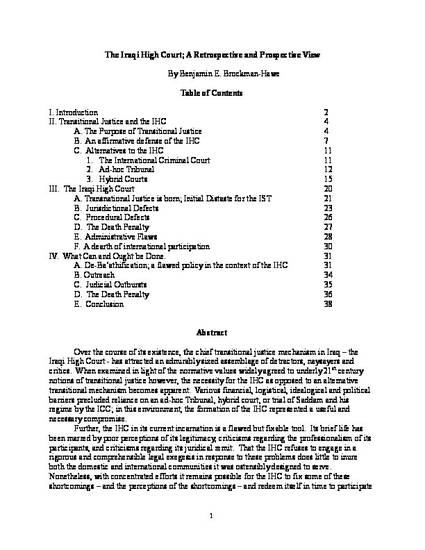 Article
The Iraqi High Court; A retrospective and prospective view
CA State Bar Journal (2007)
Abstract
Over the course of its existence, the chief transitional justice mechanism in Iraq – the Iraqi High Court - has attracted an admirably sized assemblage of detractors, naysayers and critics. When examined in light of the normative values widely agreed to underly 21st century notions of transitional justice however, the necessity for the IHC as opposed to an alternative transitional mechanism becomes apparent. Various financial, logistical, idealogical and political barriers precluded reliance on an ad-hoc Tribunal, hybrid court, or trial of Saddam and his regime by the ICC; in this environment, the formation of the IHC represented a useful and necessary compromise. Further, the IHC in its current incarnation is a flawed but fixable tool. Its brief life has been marred by poor perceptions of its legitimacy, criticisms regarding the professionalism of its participants, and criticisms regarding its juridical remit. That the IHC refuses to engage in a rigorous and comprehensible legal exegesis in response to these problems does little to inure both the domestic and international communities it was ostensibly designed to serve. Nonetheless, with concentrated efforts it remains possible for the IHC to fix some of these shortcomings – and the perceptions of the shortcomings – and redeem itself in time to participate meaningfully and functionally in the rebuilding of Iraq.
Keywords
Iraqi Special Tribunal,
Iraqi high Court,
ad hoc Tribunal,
hybrid court,
Saddam Hussein
Citation Information
Benjamin E. Brockman-Hawe. "The Iraqi High Court; A retrospective and prospective view"
CA State Bar Journal
(2007)
Available at: http://works.bepress.com/benbh/1/