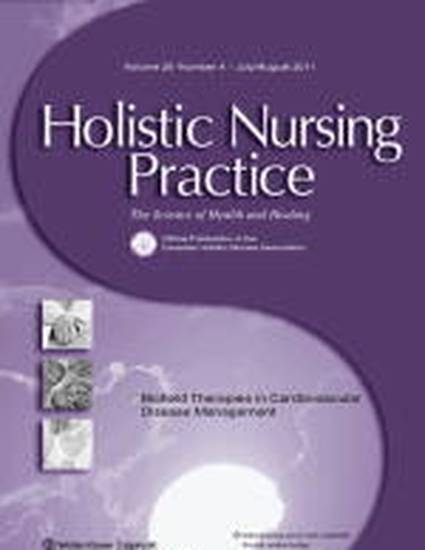 Article
Finding Meaning in Suffering
Holistic Nursing Practice (2011)
Abstract
Nurses commonly encounter pain and suffering, and alleviation of pain and suffering is a focus of the nurse's job. Spirituality and religion may assist patients who are suffering, and understanding the relationship between spiritual influences and suffering can help nurses better care for patients. Finding meaning in suffering has been described as a transcendent experience. Nurses can help patients find meaning through interventions such as listening to and witnessing suffering, connecting suffering and spirituality, creating a healing environment, and inviting reflections on suffering. Patients are "wounded story tellers" who can use their stories to make sense of their illness. Little research however has looked at patients' stories and caregivers' response in relation to patients' suffering. This article describes how patients find meaning in suffering and how nursing interventions can assist suffering patients. The process of caring for a suffering person is painful for the nurse and requires exceptional effort on the nurse's part, but the very act that drains the nurse can also create the fuel for compassionate care.
"Only through the experience of trial and suffering can the soul be strengthened, vision cleared, ambition inspired, and success achieved. The world is full of suffering; it is also full of overcoming it." Helen Keller (1880–1968)
Suffering is a universal human experience; nurses commonly encounter pain and suffering,
1
–
5
and alleviation of pain and suffering is a focus of the nurse's job.
4
,
6
,
7
Wright says, "I believe that the very heart or essence of nursing is the encounter with suffering."
5
(pxvii)
Religion and spirituality influence the suffering experience and can assist the patients to find meaning in their journey. Finding meaning in suffering has been described as a transcendent experience.
8
Nurses are the bridge to dealing with the painful journey. They are the 1 constant in the multiplicity of the health care system.
6
If nurses better understood the process of suffering, could they provide interventions to help patients deal with suffering? This article discusses how spirituality and religion affect suffering and how nurses can help patients who are suffering.
Cassel described suffering "as the state of severe distress associated with events that threaten the intactness or wholeness of the person."
9
(p27) Rodgers and Cowles define suffering as "an individualized, subjective, and complex experience that involves the assignment of an intensely negative meaning to an event or a perceived threat."
10
(p1048) Cassel adds "suffering is that state of distress induced by the threat of the loss of intactness or the disintegration of a person from whatever the cause. Suffering is a consequence of personhood—bodies do not suffer, persons do."
11
(p3) Reed
4
suggests additional elements of suffering: isolation; hopelessness; vulnerability; and loss.
Keywords
chronic illness,
nursing interventions,
nurse-patient interaction,
pain,
religion,
spirituality,
suffering
DOI
10.1097/HNP.0b013e31822271db
Citation Information
Deal, B. J. (2011). Finding meaning in suffering. Holistic Nursing Practice, 4(25), 205–2010.