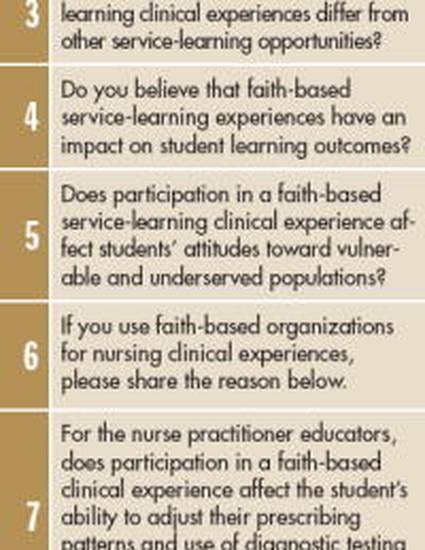 Article
Nurse Educator Perceptions of Faith-Based Organizations for Service-Learning
Journal of Christian Nursing (2016)
Abstract
Knowledge about service-learning for nursing students in faith-based organizations (FBOs) is limited. This descriptive study explored the perceptions of nurse educators about using FBOs for service-learning clinical sites. Participants (N=112) relayed specific benefits and barriers to using FBOs for service-learning clinical experiences. Recommendations are made for effective school–FBO partnerships.
Service-learning as a teaching methodology actively changes the service recipient, other community members, and students. Service-learning projects foster students' sense of civic responsibility, while enabling learning through integration of the project into the academic curriculum. After completion of the project, students' self-reflection often validates their personal discovery of values and skills demonstrated throughout the project. Researchers have demonstrated that service-learning has a positive effect on understanding of social issues, personal insight, and cognitive development (
Brown, 2013
;
Yorio & Ye, 2012
).
Keywords
faith-based organizations (FBOs),
nursing education,
service-learning
DOI
10.1097/CNJ.0000000000000259
Citation Information
Fountain, R. A., Toone, A., & Deal, B. J. (2016). Nurse educator perceptions of faith-based organizations for service-learning. Journal of Christian Nursing, 33(2), 102–107.