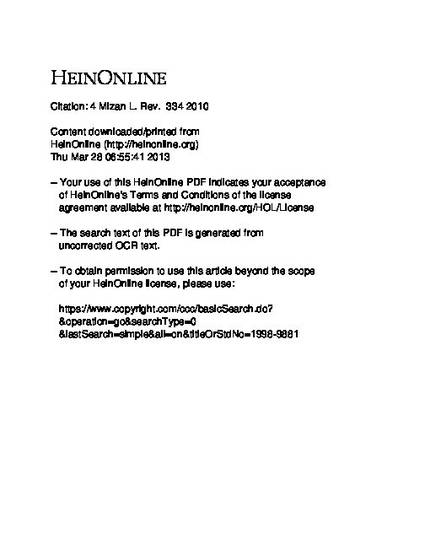 Article
Undue equation of 'Savings' with 'Compensation for Services': Case comment
Mizan Law Review (2010)
Abstract
Individual employer-employee relations are regulated by a regime called 'employment law'. Despite the inadequate semantic clarity in our legal system regarding the usage of the words 'employment law' and 'labour law', the latter is 'understood as the regime that governs workers' efforts to advance their own shared interests through self-organisation and collective protest, pressure, negotiation and agreement with employers. Among the numerous benefits accorded to an outgoing employee is severance payment that somehow provides an interim income during transition from one engagement to another. And this form of benefit represents one variety of the 'third wing' within the regime of labour relations that are legislatively determined 'minimum labour conditions'. These are conditions which are subject to neither individual nor collective negotiations to their detriment. While we moved on from an indiscriminate entitlement regime to a selective approach towards who may (or may not) get this form of benefit, the exact contours of application still remain contested. This comment addresses a trend that is currently being entrenched in the practice of the labour benches whereby they deny severance pay in case a discharged employee is a beneficiary of a scheme known as 'provident fund' or vise versa. This of course has been legislated upon by the labour (amendment) proclamation and is being practiced by our courts. This comment is a critical appraisal of that practice based on the dictum of the Federal Supreme Court on the matter.
Keywords
Ethiopia's employment law; Severance pay; Compensation for services
Publication Date
Fall September, 2010
Citation Information
Belachew M Fikre. "Undue equation of 'Savings' with 'Compensation for Services': Case comment"
Mizan Law Review
Vol. 4 Iss. 2 (2010)
Available at: http://works.bepress.com/belachew_fikre/4/