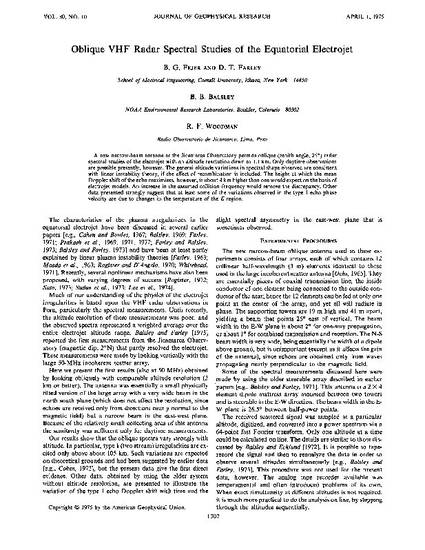 Article
Oblique VHF spectral studies ofthe equatorial electrojet
Journal of Geophysical Research (1975)
Abstract
A new narrow-beam antenna at the Jicamarca Observatory permits oblique (zenith angle, 25°) radar spectral studies of the electrojet with an altitude resolution down to 1.1 km. Only daytime observations are possible presently, however. The general altitude variations in spectral shape observed are consistent with linear instability theory, if the effect of recombination is included. The height at which the mean Doppler shift of the echo maximizes, however, is about 4 km higher than one would expect on the basis of electrojet models. An increase in the assumed collision frequency would remove the discrepancy. Other data presented strongly suggest that at least some of the variations observed in the type 1 echo phase velocity are due to changes in the temperature of the E region.
Keywords
oblique,
VHF,
spectral,
studies,
equator,
equatorial,
electrojet
Publication Date
January 1, 1975
Citation Information
Fejer, B. G., D. T. Farley, B. B. Balsley, and R. F. Woodman, Oblique VHF spectral studies of the equatorial electrojet, J. Geophys. Res., 80, 1307, 1975.