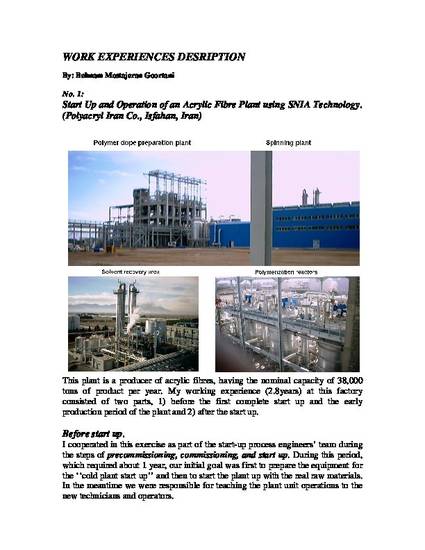 Presentation
Work experiences details: 1) Spary dryers 2) Chemial plant start-up
Setarvan Corporation and PlyacrilIran corporation (2001)
Abstract
A summary of two unique and exciting experiences in chemical plants is presented. In the first experience, the diferent steps from design to start-up of a spray dryer for the production of sodiumteripolyphosphate is described. In the second one, the different stages from mechanical completion to the continous plant operation of an acrylic fibe plant (SNIA technology) is explianed.
Keywords
spary dryer,
design,
start-up,
unit operation,
pre-commisioning,
commisioning,
start-up,
continous operation
Publication Date
March, 2001
Citation Information
behnam mostajeran goortani. "Work experiences details: 1) Spary dryers 2) Chemial plant start-up"
Setarvan Corporation and PlyacrilIran corporation
(2001)
Available at: http://works.bepress.com/behnam_mostajeran_goortani/2/