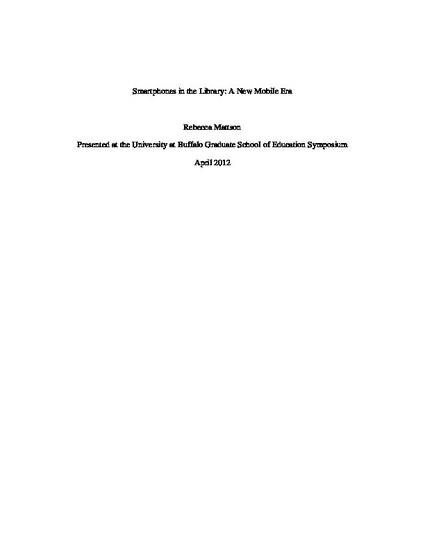 Presentation
Smartphones in the Library: A New Mobile Era
University at Buffalo GSE Research Symposium: Transforming Lives through Education, Research, and Practice (2012)
Abstract
Recent years have led to the adaptation of new mobile technologies.  The new mobile, in particular smartphone, capabilities have led many libraries to adapt webpages for use with mobile devices, offer new reference services, and embrace new offerings such as quick response code tagging.  The purpose of this paper is to discuss the ways the proliferation of smartphones has changed traditional library services and the new and exciting technologies libraries now should embrace.  The paper also discusses the privacy concerns surrounding the ubiquitous nature of smartphones.
Keywords
mobile technology,
libraries
Publication Date
April 5, 2012
Citation Information
"Smartphones in the Library: A New Mobile Era"
University at Buffalo GSE Research Symposium: Transforming Lives through Education, Research, and Practice
(2012)
Available at: http://works.bepress.com/becky_mattson1/4/