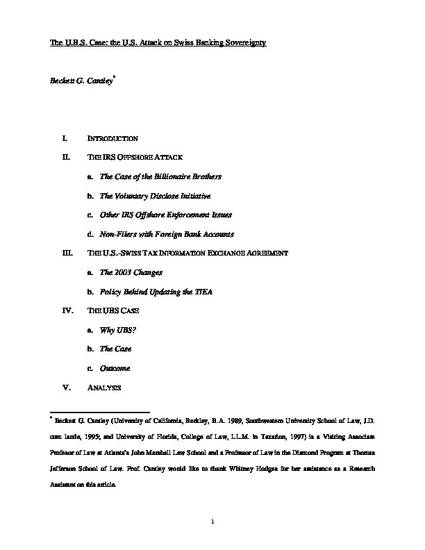 Unpublished Paper
The U.B.S. Case: the U.S. Attack on Swiss Banking Sovereignty
ExpressO (2010)
Abstract
On August 1, 2006, the United States Senate's Permanent Subcommittee on Investigations ("PSI"), a branch of the Committee on Homeland Security and Governmental Affairs, released a report in conjunction with a Senate hearing that revealed alarming statistics regarding wealthy Americans' love affair with offshore banking. The PSI report was a culmination of the subcommittee's investigation into tax haven abuses, providing the most detailed look to date of high-level tax schemes. The report revealed such an alarming number of rich Americans are using offshore accounts to evade taxes that law enforcement is unable to control the growing misconduct. Senator Carl Levin (D-Mich.), Chairman of the PSI, stated, "The universe of offshore tax cheating has become so large that no one, not even the United States government, could go after it all." This statement marks the first salvo in the new United States attack on offshore tax evasion. The principal focus of this attack appears to be in unreported offshore bank accounts. The most conspicuous historical jurisdiction for U.S. residents with such accounts is Switzerland due to its stringent banking laws and stronghold on foreign money. While there is an existing tax information exchange agreement ("TIEA") between the U.S. and Switzerland (last significantly revised in 2003), the newly minted U.S. attack focuses on Swiss accounts and the U.S. attempt to obtain account holder information from UBS AG has allowed this fight to evolve into a judicial battle. The policy goals of the U.S. here are clearly valid, but the means of obtaining the information is overbroad given how vigorously the U.S. guards its own legal exceptionalism. Understandably, the Swiss have a valid concern that the U.S. is not respecting Swiss domestic law. The U.S., after all, has personal jurisdiction over its own citizens – surely there are better ways of obtaining this information while respecting the domestic laws of another sovereign country, especially an ally such as Switzerland. The focus of this paper is to dissect the intricacies and arguments surrounding the U.S. attack on offshore banking in an attempt to curtail, arguably, rampant tax evasion, followed by a detailed look into the development, policy implications, and consequences of the U.S. v. UBS AG case.
Publication Date
August 31, 2010
Citation Information
Beckett G Cantley. "The U.B.S. Case: the U.S. Attack on Swiss Banking Sovereignty"
ExpressO
(2010)
Available at: http://works.bepress.com/beckett_cantley/1/