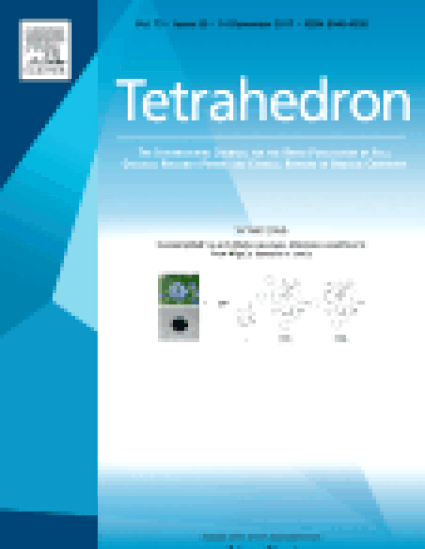 Article
Stereoselective Synthesis of Some Novel Heterocyclic Estrone Derivatives by Intramolecular 1,3-Dipolar Cycloaddition
Tetrahedron
Publication Date
8-1-2002
Keywords
Nitrones, Azomethine imines, 1, 3-dipolar cycloaddition, Lewis acid, Stereoselective synthesis
Abstract
16,17-seco-3-Methoxyestra-1,3,5(10),16-tetraen-17-al undergoes intramolecular nitrone 1,3-dipolar cycloaddition with both hydroxylamine and N-methylhydroxylamine to produce a single isoxazolidine isomer in each case. The ring-closures of the hydrazones and the aldazine derived from the secoaldehyde lead to fused N-containing heterocycles via Lewis acid-induced cyclization of the intermediate azomethine imines.
DOI
10.1016/S0040-4020(02)00741-X
Citation Information
Eva Frank, Janos Wolfling, Beatrix Aukszi, Veronica Konig, et al.. "Stereoselective Synthesis of Some Novel Heterocyclic Estrone Derivatives by Intramolecular 1,3-Dipolar Cycloaddition"
Tetrahedron
Vol. 58 Iss. 34 (2002) p. 6843 - 6849 ISSN: 0040-4020
Available at: http://works.bepress.com/beatrix-aukszi/3/