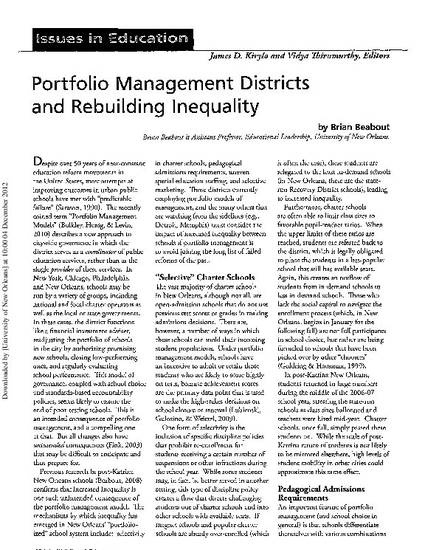 Article
Portfolio Management Districts and Rebuilding Inequality
Childhood Education (2011)
Abstract
Despite over fifty years of near-constant educational reform movements in the USA, most attempts at improving outcomes in urban public schools have meet with predictable failure (Sarason, 1990). The recently coined term Portfolio Management Models (Bulkley, Henig & Levin, 2010) describes a reform to citywide governance in which the district serves as a coordinator of public education services, rather than the single provider of these services. Cities such as New York, Chicago, Philadelphia, and New Orleans are noted for having schools run by a variety of groups including national and local charter operators, magnets and neighborhood schools run by the local district, state or city managed schools, and a variety of others. In these cases, the district functions like an investment advisor, readjusting the portfolio of schools in the city by authorizing promising new schools, closing low performing ones, and regularly evaluating school performance. This model of governance, coupled with school choice and standards-based accountability policies, seems likely to ensure that poor-testing schools are not allowed to survive very long. This is an intended consequence of portfolio management, and a compelling one at that. But all changes have unintended consequences (Fink, 2003). We know much less about these. Intended consequences can easily be described before implementation, whereas unintended consequences often emerge only after implementation.
Keywords
charter schools,
inequality,
portfolio management
Citation Information
Brian R. Beabout. "Portfolio Management Districts and Rebuilding Inequality"
Childhood Education
Vol. 87 Iss. 5 (2011)
Available at: http://works.bepress.com/beabout/7/