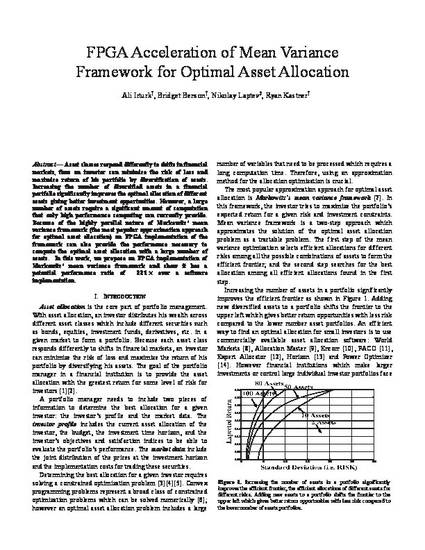 Presentation
FPGA Acceleration of Mean Variance Framework for Optimal Asset Allocation
Workshop on High Performance Computational Finance, 2008 Proceedings: Austin, TX
Publication Date
11-16-2008
Abstract
Asset classes respond differently to shifts in financial markets, thus an investor can minimize the risk of loss and maximize return of his portfolio by diversification of assets. Increasing the number of diversified assets in a financial portfolio significantly improves the optimal allocation of different assets giving better investment opportunities. However, a large number of assets require a significant amount of computation that only high performance computing can currently provide. Because of the highly parallel nature of Markowitzpsila mean variance framework (the most popular approximation approach for optimal asset allocation) an FPGA implementation of the framework can also provide the performance necessary to compute the optimal asset allocation with a large number of assets. In this work, we propose an FPGA implementation of Markowitzpsila mean variance framework and show it has a potential performance ratio of 221 times over a software implementation.
Citation Information
Ali Irturk, Bridget Benson, Nikolay Laptev and Ryan Kastner. "FPGA Acceleration of Mean Variance Framework for Optimal Asset Allocation"
Workshop on High Performance Computational Finance, 2008 Proceedings: Austin, TX
(2008) p. 1 - 8
Available at: http://works.bepress.com/bbenson/6/