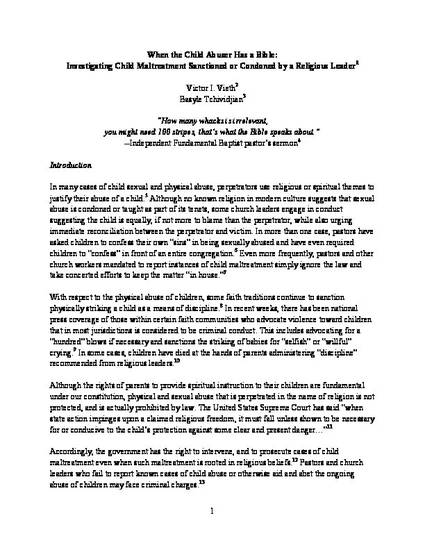 Article
When the Child Abuser Has a Bible: Investigating Child Maltreatment Sanctioned or Condoned by a Religious Leader
Center Piece (2011)
Abstract
In many cases of child sexual and physical abuse, perpetrators use religious or spiritual themes to justify their abuse of a child. Although no known religion in modern culture suggests that sexual abuse is condoned or taught as part of its tenets, some church leaders engage in conduct suggesting the child is equally, if not more to blame than the perpetrator, while also urging immediate reconciliation between the perpetrator and victim. In more than one case, pastors have asked children to confess their own "sins" in being sexually abused and have even required children to "confess" in front of an entire congregation. Even more frequently, pastors and other church workers mandated to report instances of child maltreatment simply ignore the law and take concerted efforts to keep the matter "in house."
This article will address the most common issues associated with investigating child abuse in environments where the abusers exploit their religious authority to perpetuate the abuse. This article will also present 17 tips for investigators who investigate such religiously charged and complex cases.
Keywords
religion,
minister,
abuse,
child,
children,
police,
investigation,
law enforcement
Citation Information
Basyle Tchividjian. "When the Child Abuser Has a Bible: Investigating Child Maltreatment Sanctioned or Condoned by a Religious Leader"
Center Piece
(2011)
Available at: http://works.bepress.com/basyle_tchividjian/1/