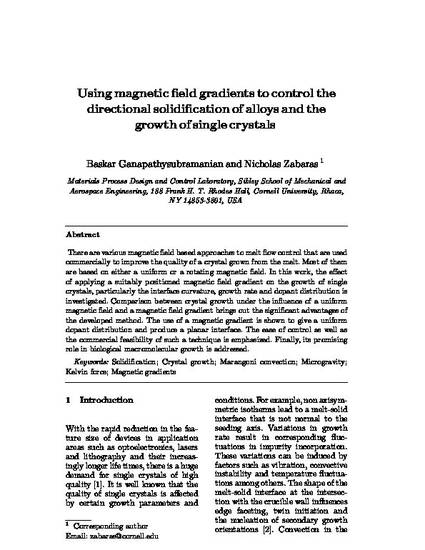 Article
Using magnetic field gradients to control the directional solidification of alloys and the growth of single crystals
Journal of Crystal Growth (2004)
Abstract
There are various magnetic field based approaches to melt flow control that are used commercially to improve the quality of a crystal grown from the melt. Most of them are based on either a uniform or a rotating magnetic field. In this work, the effect of applying a suitably positioned magnetic field gradient on the growth of single crystals, particularly the interface curvature, growth rate and dopant distribution is investigated. Comparison between crystal growth under the influence of a uniform magnetic field and a magnetic field gradient brings out the significant advantages of the developed method. The use of a magnetic gradient is shown to give a uniform dopant distribution and produce a planar interface. The ease of control as well as the commercial feasibility of such a technique is emphasized. Finally, its promising role in biological macromolecular growth is addressed.
Keywords
Kelvin force,
Magnetic gradients,
Marangoni convection,
Solidification,
Crystal growth,
Microgravity conditions
Publication Date
September, 2004
DOI
10.1016/j.jcrysgro.2004.06.020
Citation Information
Baskar Ganapathysubramanian and Nicholas Zabaras. "Using magnetic field gradients to control the directional solidification of alloys and the growth of single crystals"
Journal of Crystal Growth
Vol. 270 Iss. 1-2 (2004) p. 255 - 272
Available at: http://works.bepress.com/baskar-ganapathysubramanian/47/
Creative Commons license
This work is licensed under a Creative Commons CC_BY-NC-ND International License.