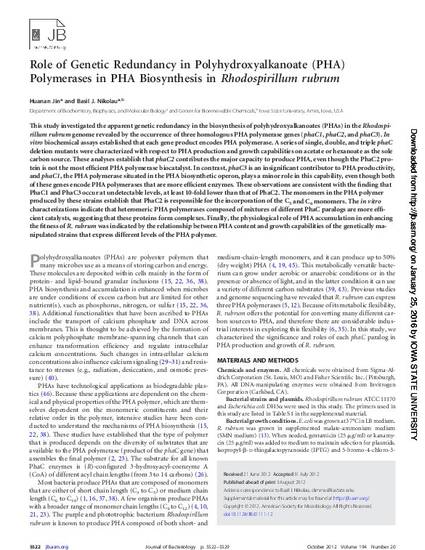 Article
Role of Genetic Redundancy in Polyhydroxyalkanoate (PHA) Polymerases in PHA Biosynthesis in Rhodospirillum rubrum
Journal of Bacteriology
Publication Version
Published Version
Publication Date
1-1-2012
Abstract
This study investigated the apparent genetic redundancy in the biosynthesis of polyhydroxyalkanoates (PHAs) in the Rhodospirillum rubrum genome revealed by the occurrence of three homologous PHA polymerase genes (phaC1, phaC2, and phaC3). In vitro biochemical assays established that each gene product encodes PHA polymerase. A series of single, double, and triple phaC deletion mutants were characterized with respect to PHA production and growth capabilities on acetate or hexanoate as the sole carbon source. These analyses establish that phaC2 contributes the major capacity to produce PHA, even though the PhaC2 protein is not the most efficient PHA polymerase biocatalyst. In contrast, phaC3 is an insignificant contributor to PHA productivity, and phaC1, the PHA polymerase situated in the PHA biosynthetic operon, plays a minor role in this capability, even though both of these genes encode PHA polymerases that are more efficient enzymes. These observations are consistent with the finding that PhaC1 and PhaC3 occur at undetectable levels, at least 10-fold lower than that of PhaC2. The monomers in the PHA polymer produced by these strains establish that PhaC2 is responsible for the incorporation of the C5 and C6 monomers. The in vitro characterizations indicate that heteromeric PHA polymerases composed of mixtures of different PhaC paralogs are more efficient catalysts, suggesting that these proteins form complexes. Finally, the physiological role of PHA accumulation in enhancing the fitness of R. rubrum was indicated by the relationship between PHA content and growth capabilities of the genetically manipulated strains that express different levels of the PHA polymer.
Copyright Owner
American Society for Microbiology
File Format
application/pdf
Citation Information
Huanan Jin and Basil Nikolau. "Role of Genetic Redundancy in Polyhydroxyalkanoate (PHA) Polymerases in PHA Biosynthesis in Rhodospirillum rubrum"
Journal of Bacteriology
Vol. 194 Iss. 20 (2012) p. 5522 - 5529
Available at: http://works.bepress.com/basil-nikolau/9/