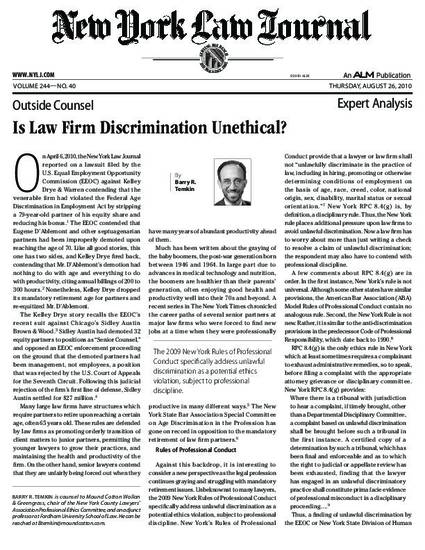 Article
Is Law Firm Discrimination Unethical?
New York Law Journal (2010)
Abstract
Unbeknownst to many lawyers, the New York Rules of Professional Conduct specifically address unlawful discrimination as a potential ethics violation, subject to professional discipline. New York's Rules of Professional Conduct provide, in RPC 8.4, that a lawyer or law firm shall not "unlawfully discriminate in the practice of law, including in hiring, promoting or otherwise determining conditions of employment on the basis of age, race, creed, color, national origin, sex, disability, marital status or sexual orientation." Now a law firm has to worry about more than just writing a check to resolve a claim of unlawful discrimination; the respondent may also have to contend with professional discipline. This increases the stakes involved in civil rights investigations and prosecutions of law firms, which face more than mere money damages and professional disgrace as a result of a finding of unlawful discrimination. Now, lawyers and law firms found guilty of unlawful discrimination may also face professional discipline.
Publication Date
August 26, 2010
Citation Information
Barry R. Temkin. "Is Law Firm Discrimination Unethical?"
New York Law Journal
Vol. 244 Iss. 40 (2010)
Available at: http://works.bepress.com/barry_temkin/24/