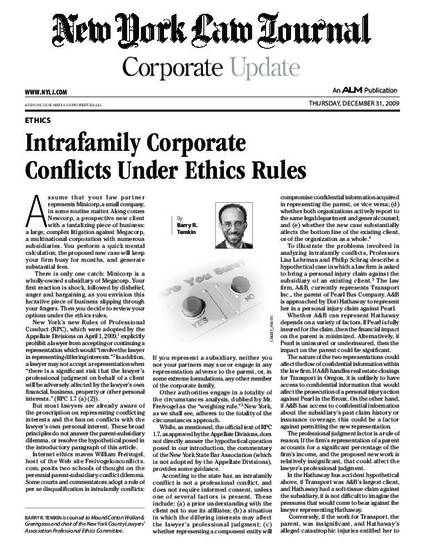 Article
Intrafamily Corporate Conflicts Under The Ethics Rules
New York Law Journal (2009)
Abstract
Under the Rules of Professional Conduct, concurrent conflicts may arise when a law firm is asked to represent the corporate affiliate of a current client in a case in which the two entities may be adverse. Whether representing one member of a corporate family disqualifies a law firm from new representation which is adverse to another member of the same family depends upon a number of factors, including the existing client's reasonable understanding of the scope of representation, whether both organizations report to the same legal department, and whether acting adversely to a component entity will compromise confidential information acquired in representing the existing client.
Publication Date
December 31, 2009
Citation Information
Barry R. Temkin. "Intrafamily Corporate Conflicts Under The Ethics Rules"
New York Law Journal
(2009)
Available at: http://works.bepress.com/barry_temkin/19/