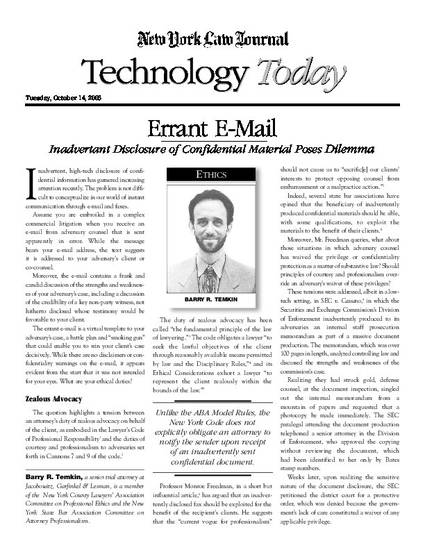 Article
Errant E-Mail: Inadvertant Disclosure of Confidential Material Poses Dilemma
The New York Law Journal (2003)
Abstract
Lawyers must excercise diligence to protect the confidentiality of privileged client materials. Lawyers who mistakenly press the "send" button on their computers or "reply to all" may find that they inadvertently disclosed confidential material to adversaries -- or the public. The recipient of such inadvertently sent confidential materials may have a duty to alert an adversary to the mistaken disclosure, depending on the precautions taken to preserve privilege, and whether there is evidence of a conscious or reckless waiver of the privilege.
Publication Date
October 14, 2003
Citation Information
Barry R. Temkin. "Errant E-Mail: Inadvertant Disclosure of Confidential Material Poses Dilemma"
The New York Law Journal
(2003)
Available at: http://works.bepress.com/barry_temkin/11/