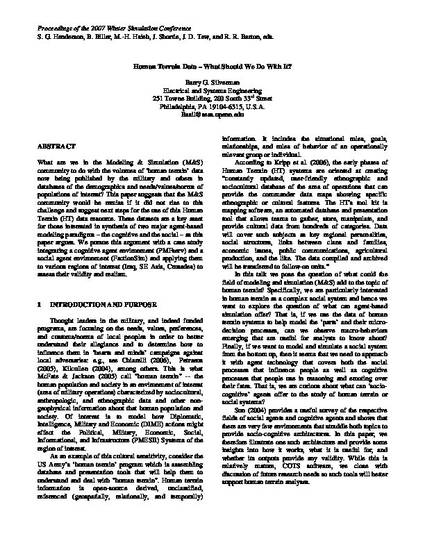 Article
Human Terrain Data – What Should We Do With It?
Departmental Papers (ESE)
Abstract
What are we in the Modeling & Simulation (M&S) community to do with the volumes of 'human terrain' data now being published by the military and others in databases of the demographics and needs/values/norms of populations of interest? This paper suggests that the M&S community would be remiss if it did not rise to this challenge and suggest next steps for the use of this Human Terrain (HT) data resource. These datasets are a key asset for those interested in synthesis of two major agent-based modeling paradigms – the cognitive and the social – as this paper argues. We pursue this argument with a case study integrating a cognitive agent environment (PMFserv) and a social agent environment (FactionSim) and applying them to various regions of interest (Iraq, SE Asia, Crusades) to assess their validity and realism.
Document Type
Conference Paper
Date of this Version
12-1-2007
Citation Information
Barry G Silverman. "Human Terrain Data – What Should We Do With It?" (2007)
Available at: http://works.bepress.com/barry_silverman/11/