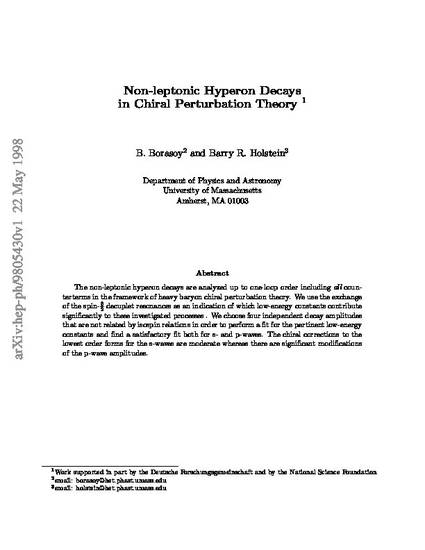 Article
Non-leptonic hyperon decays in chiral perturbation theory
EUROPEAN PHYSICAL JOURNAL C
Abstract
The non-leptonic hyperon decays are analyzed up to one-loop order including all counterterms in the framework of heavy baryon chiral perturbation theory. We use the exchange of the spin- decuplet resonances as an indication of which low-energy constants contribute significantly to these investigated processes. We choose four independent decay amplitudes that are not related by isospin relations in order to perform a fit for the pertinent low-energy constants and find a satisfactory fit both for s- and p-waves. The chiral corrections to the lowest order forms for the s-waves are moderate whereas there are significant modifications of the p-wave amplitudes.
Citation Information
B Borasoy and BR Holstein. "Non-leptonic hyperon decays in chiral perturbation theory"
EUROPEAN PHYSICAL JOURNAL C
Vol. 6 Iss. 1 (1999)
Available at: http://works.bepress.com/barry_holstein/93/