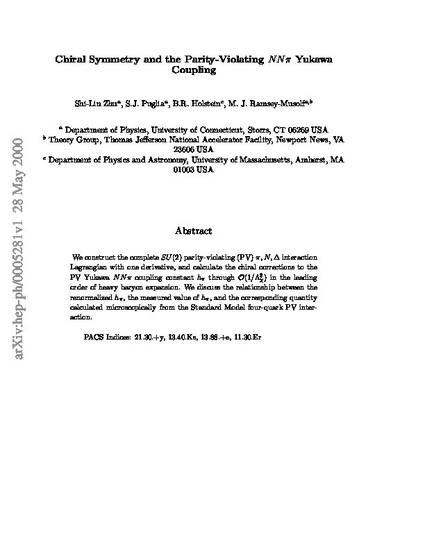 Article
Chiral symmetry and the parity-violating NN pi Yukawa coupling
PHYSICAL REVIEW D
Abstract
We construct the complete SU(2) parity-violating (PV) π,N,Δ interaction Lagrangian with one derivative, and calculate the chiral corrections to the PV Yukawa NNπ coupling constant hπ through O(1/Λχ3) in the leading order of heavy baryon expansion. We discuss the relationship between the renormalized hπ, the measured value of hπ, and the corresponding quantity calculated microscopically from the standard model four-quark PV interaction. We observe that the renormalized hπ depends strongly on a number of a priori unknown parameters in the PV effective Lagrangian.
Citation Information
SL Zhu, SJ Puglia, BR Holstein and MJ Ramsey-Musolf. "Chiral symmetry and the parity-violating NN pi Yukawa coupling"
PHYSICAL REVIEW D
Vol. 63 Iss. 3 (2001)
Available at: http://works.bepress.com/barry_holstein/53/