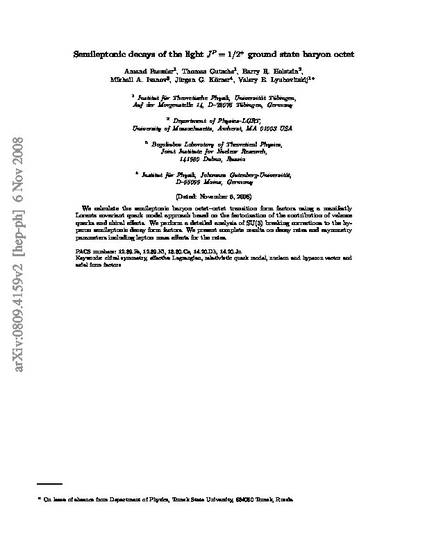 Article
Semileptonic decays of the light J(P)=1/2(+) ground state baryon octet
PHYSICAL REVIEW D
Abstract
We calculate the semileptonic baryon octet-octet transition form factors using a manifestly Lorentz covariant quark model approach based on the factorization of the contribution of valence quarks and chiral effects. We perform a detailed analysis of SU(3)-breaking corrections to the hyperon semileptonic decay form factors. We present complete results on decay rates and asymmetry parameters including lepton mass effects for the rates.
Citation Information
A Faessler, T Gutsche, BR Holstein, MA Ivanov, et al.. "Semileptonic decays of the light J(P)=1/2(+) ground state baryon octet"
PHYSICAL REVIEW D
Vol. 78 Iss. 9 (2008)
Available at: http://works.bepress.com/barry_holstein/210/