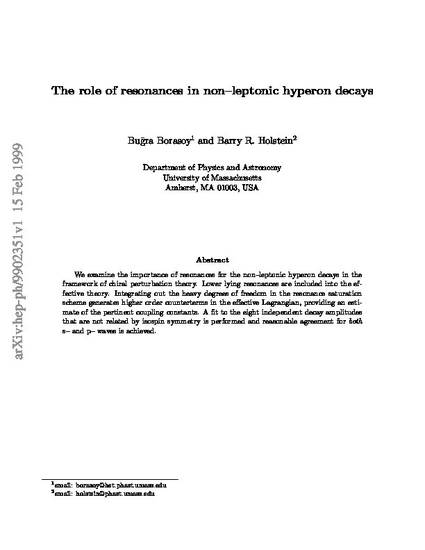 Article
Role of resonances in nonleptonic hyperon decays
PHYSICAL REVIEW D
Abstract
We examine the importance of resonances for the nonleptonic hyperon decays in the framework of chiral perturbation theory. Lower lying resonances are included in the effective theory. Integrating out the heavy degrees of freedom in the resonance saturation scheme generates higher order counterterms in the effective Lagrangian, providing an estimate of the pertinent coupling constants. A fit to the eight independent decay amplitudes that are not related by isospin symmetry is performed and reasonable agreement for both s and p waves is achieved.
Citation Information
B Borasoy and BR Holstein. "Role of resonances in nonleptonic hyperon decays"
PHYSICAL REVIEW D
Vol. 59 Iss. 9 (1999)
Available at: http://works.bepress.com/barry_holstein/126/