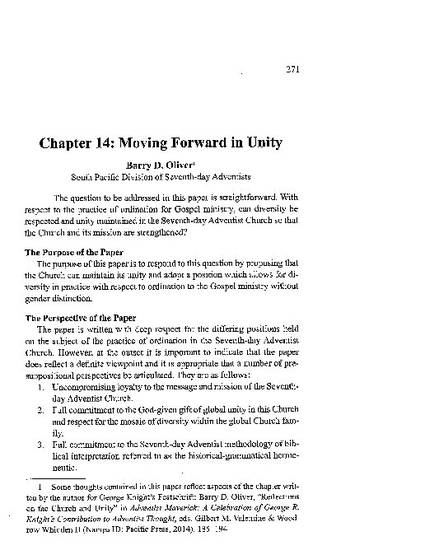 Contribution to Book
Moving Forward in Unity
This book chapter was originally published as: Oliver, B. (2015). Moving forward in unity. In G. Humble, & R. McIver (Eds.), South Pacific perspectives on ordination: Biblical, theological, and historical studies in an Adventist context (pp. 271-281). Cooranbong, Australia: Avondale Academic Press. ISBN: 9780958159128
Document Type
Book Chapter
Publication Date
1-1-2015
Abstract
The question to be addressed in this chapter is straightforward. With respect to the practice of ordination for Gospel ministry, can diversity be respected and unity maintained in the Seventh-day Adventist Church so that the Church and its mission are strengthened?
Citation Information
Oliver, B. (2015). Moving forward in unity. In G. Humble, & R. McIver (Eds.), South Pacific perspectives on ordination: Biblical, theological, and historical studies in an Adventist context (pp. 271-281). Cooranbong, Australia: Avondale Academic Press.