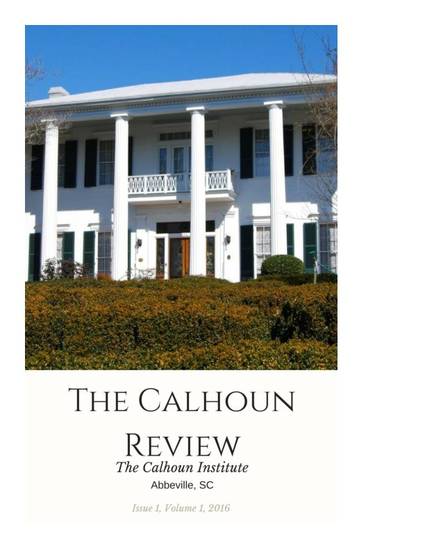 Other
The Calhoun Review, Issue 1, Volume I, 2016 – Secession and Devolution in Contemporary Geopolitical Theory
(2016)
Abstract
In this inaugural issue of
The Calhoun Review
we examine the topic of secession, particularly as it applies to contemporary political discussions in the US and internationally. In the standard narrative of US history, particularly as told over the last 30-40 years, Calhoun was the godfather of secession which lead to a war and was proven a flawed and illegitimate concept. 
Publication Date
Winter February 29, 2016
DOI
10.13140/RG.2.1.1712.1041
Citation Information
Barry Clark. "The Calhoun Review, Issue 1, Volume I, 2016 – Secession and Devolution in Contemporary Geopolitical Theory" (2016)
Available at: http://works.bepress.com/barry-clark/8/
Creative Commons license
This work is licensed under a Creative Commons CC_BY-NC International License.