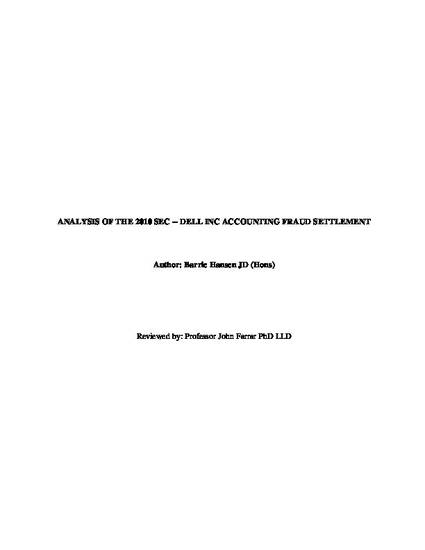 Unpublished Paper
ANALYSIS OF THE 2010 SEC -- DELL INC ACCOUNTING FRAUD SETTLEMENT
White Collar Crime (2010)
Abstract
Quis custodiet ipsos custodes? "Who shall guard the guards?" Juvenal, Satires The rule of law is dependent on public perception that there is consistency or parity in the application and enforcement of the law. The Securities and Exchange Commission (SEC) has recently been in sharp focus because of a perception that it has been ineffective in enforcing the law. The SEC should, as a matter of principle and public policy, be required to achieve a better result for injured parties than they would have otherwise achieved under the common law. Justice Mason of the High Court of Australia in Lowe v The Queen (1984) 154 CLR 606, at 610 (as he then was) said: "Just as consistency in punishment — a reflection of the notion of equal justice — is a fundamental element in any rational and fair system of criminal justice, so inconsistency in punishment, because it is regarded as a badge of unfairness and unequal treatment under the law, is calculated to lead to an erosion of public confidence in the integrity of the administration of justice. It is for this reason that the avoidance and elimination of unjustifiable discrepancy in sentencing is a matter of abiding importance to the administration of justice and to the community." This view was echoed by the Supreme Court of Canada in R. v. Nasogaluak, 2010 SCC 6, [2010] 1 S.C.R, and fully highlighted by the United States Supreme Court, in United States v. Booker, 543 U.S. 220, 260 (2005); Blakely v Washington 17 542 U.S. 296 (2004); and Apprendi v New Jersey 530 U.S. 466 (2000). The Dell Inc settlement of SEC accounting fraud charges appears to be inconsistent with previous accounting fraud settlements in the same arena, and of the same magnitude. Public perception of the rule of law may be undermined if the SEC settles fraud charges for significantly less than has been done in previous cases, particularly where the settlement does not impose a substantive penalty on the architects of the fraud, and one which is proportionate to the magnitude of loss suffered by the public.
Keywords
parity principle; proportionate; Sarbanes-Oxley; accounting fraud; penalty tax deductible
Publication Date
Summer August 15, 2010
Citation Information
Barrie Hansen. "ANALYSIS OF THE 2010 SEC -- DELL INC ACCOUNTING FRAUD SETTLEMENT"
White Collar Crime
(2010)
Available at: http://works.bepress.com/barrie_hansen/6/