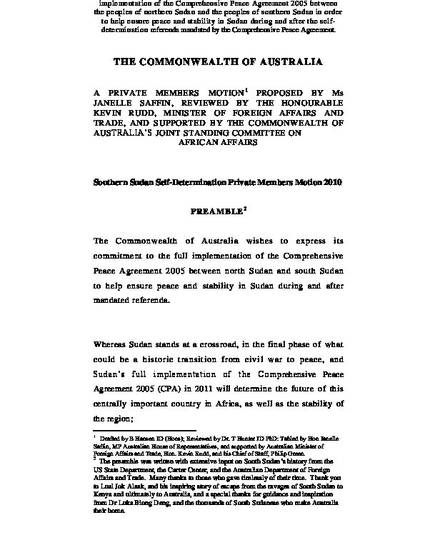 Presentation
SOUTHERN SUDAN SELF-DETERMINATION PRIVATE MEMBERS MOTION 2010
Australian Department of Foreign Affairs and Trade (2010)
Abstract
In 2010 I was introduced to a young man, Lual Jok Alaak, who was then studying for a law degree at Bond University Law School. I was struck by his positive outlook and even more surprised by his demeanour when I learned that his father had been executed by North Sudanese soldiers because he was Christian. I learned that Lual, not yet a teenager, fled South Sudan to a refugee camp in Kenya; was eventually given official UNHCR refugee status; and then offered a home in Australia, where he has studied to become a lawyer. Lual had written a book about his flight through the jungles of South Sudan to Kenya, and the plight of his people, who had been oppressed and slaughtered in the name of Islam for many years. My involvement with the South Sudanese Independence Referendum can be traced to the chance meeting of young Lual. I was struck by the use of religion to mask the avaricious desire to gain control of South Sudan's oil industry. This was best illustrated by photos I was shown of China's PLA soldiers standing guard around South Sudan's oilfields. The reason for today posting the Private Members Motion, that was used as the tool to garner support in Australia for South Sudan's independence, is a growing concern that the current conflict between the new nation, South Sudan, and Sudan in the north, is being fulminated by the Peoples Republic of China. China is the largest owner/beneficiary of significant oil resources in South Sudan, although these resources were discovered by Chevron and developed by Talisman Energy of Canada. It is widely acknowledged that China sold arms to the Muslim government in Sudan's capital, Khartoum, who purchased these arms with royalties from oil exported to China from South Sudan. It was in China's interest to promote conflict between the north and the south in order to retain control over the oil, just as certain British interests had done in Rhodesia decades earlier. The geopolitical landscape between north and south Sudan has changed, thanks to South Sudan's sovereignty granted in July 2011, but China's resource ambitions have not changed. It continues to promote conflict in order to gain advantage in respect of South Sudan's oil resources. The People's Republic of China has loaned money to sovereign South Sudan, but continues to supply arms to the Khartoum government in the north. It should be obvious that Chinese oil companies, which are majority owned and controlled by the Chinese government, are a geopolitical instrument of Beijing, which continues to be an authoritarian regime. What is tolerated by an authoritarian regime, even one as successful as China, stands in stark contrast to that which may be considered acceptable to a democracy. Surely it is time for western governments to extend enough financial assistance to South Sudan, so that Chinese state involvement in South Sudan's oil industry may be foreclosed, and the conflict and loss of life may stop.
Keywords
South Sudan,
Independence; Referendum; oil; conflict. China
Publication Date
Winter October 11, 2010
Citation Information
B Hansen. "SOUTHERN SUDAN SELF-DETERMINATION PRIVATE MEMBERS MOTION 2010"
Australian Department of Foreign Affairs and Trade
(2010)
Available at: http://works.bepress.com/barrie_hansen/12/