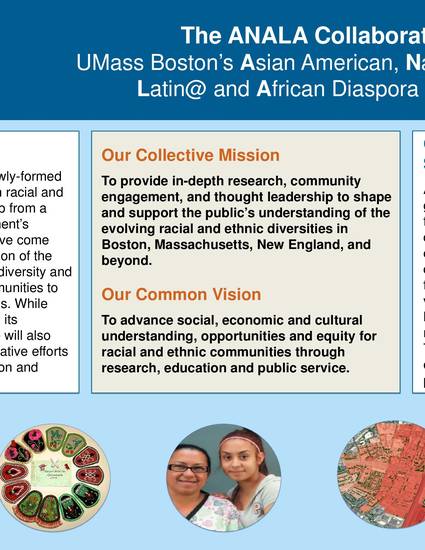 Presentation
The ANALA Collaborative: UMass Boston's Asian American, Native American, Latin@ and African Diaspora Institutes
Office of Community Partnerships Posters
Document Type
Presentation
Publication Date
4-8-2015
Abstract
The ANALA Collaborative is the newly-formed umbrella for the four UMass Boston racial and ethnic institutes. This year, with help from a team from the College of Management's Emerging Leaders Program, we have come together to form ANALA in recognition of the area's increasing racial and ethnic diversity and the need for majority-minority communities to work together toward common goals. While each of the four institutes will retain its separate identity and programs, we will also place greater emphasis on collaborative efforts in the service of our common mission and vision.
Community Engaged/Serving
Yes, this is community-engaged.
Citation Information
Barbara Lewis, Carolyn Wong, Cedric Woods and Elena Stone. "The ANALA Collaborative: UMass Boston's Asian American, Native American, Latin@ and African Diaspora Institutes" (2015)
Available at: http://works.bepress.com/barbara_lewis/16/