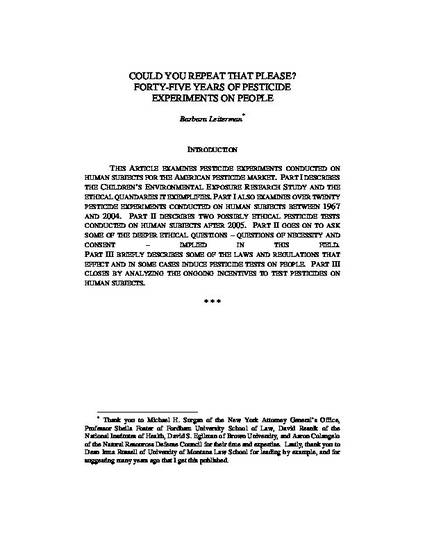 Unpublished Paper
COULD YOU REPEAT THAT PLEASE? FORTY-FIVE YEARS OF PESTICIDE EXPERIMENTS ON PEOPLE
ExpressO (2012)
Abstract
Little has been published in the literature about pesticide experiments conducted on human subjects. Yet there were at least twenty-two tests between 1967 and 2011 in which people were intentionally exposed to specific doses of pesticides. Almost all of these experiments violated scientific ethics and human rights. This article aims to describe those tests and their shortcomings, and explore the laws and regulations that incentivize such human experimentation. Ironically, as the public desire for pesticide safety increases, so does the industry's motivation to test pesticides on people. Bringing these pesticide experiments to light, expanding the public discourse on the subject and examining the implicit ethical quandaries may prevent unethical pesticide tests on people in the future.
Keywords
FIFRA,
pesticides,
experimentation,
ethics
Publication Date
March 31, 2012
Citation Information
Barbara R. Leiterman. "COULD YOU REPEAT THAT PLEASE? FORTY-FIVE YEARS OF PESTICIDE EXPERIMENTS ON PEOPLE"
ExpressO
(2012)
Available at: http://works.bepress.com/barbara_leiterman/1/