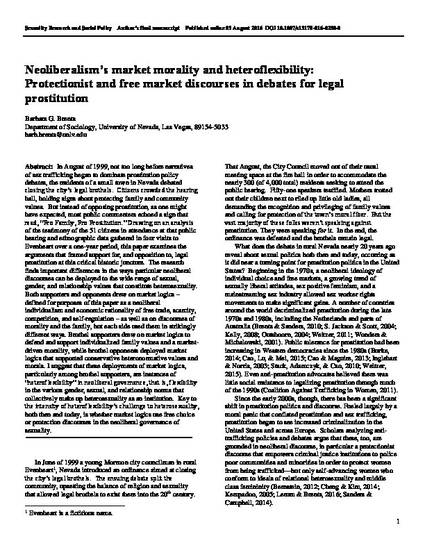 Article
Neoliberalism's market morality and heteroflexibility: Protectionist and
Sexuality Research and Social Policy (2016)
Abstract
In August of 1999, not too long before narratives of sex trafficking began to dominate prostitution policy debates, the residents of a small town in Nevada debated closing the city's legal brothels.  Citizens crowded the hearing hall, holding signs about protecting family and community values.  But instead of opposing prostitution, as one might have expected, most public commenters echoed a sign that read, "Pro Family, Pro Prostitution." Drawing on an analysis of the testimony of the 51 citizens in attendance at that public hearing and ethnographic data gathered in four visits to Evenheart over a one-year period, this paper examines the arguments that framed support for, and opposition to, legal prostitution at this critical historic juncture.  The research finds important differences in the ways particular neoliberal discourses can be deployed to the wide range of sexual, gender, and relationship values that constitute heterosexuality. Both supporters and opponents drew on market logics – defined for purposes of this paper as a neoliberal individualism and economic rationality of free trade, scarcity, competition, and self-regulation – as well as on discourses of morality and the family, but each side used them in strikingly different ways. Brothel supporters drew on market logics to defend and support individualized family values and a market-driven morality, while brothel opponents deployed market logics that supported conservative heteronormative values and morals. I suggest that these deployments of market logics, particularly among brothel supporters, are instances of "heteroflexibility" in neoliberal governance, that is, flexibility in the various gender, sexual, and relationship norms that collectively make up heterosexuality as an institution.  Key to the intensity of heteroflexibility's challenge to heterosexuality, both then and today, is whether market logics use free choice or protection discourses in the neoliberal governance of sexuality. 
Keywords
Neoliberalism,
sexuality,
heterosexuality,
heteroflexibility,
market morality,
legal prostitution,
prostitution policy,
brothels,
sex work,
prostitution
Publication Date
Fall August 3, 2016
DOI
10.1007/s13178-016-0250-0
Citation Information
Barbara G. Brents. "Neoliberalism's market morality and heteroflexibility: Protectionist and"
Sexuality Research and Social Policy
Vol. online first (2016)
Available at: http://works.bepress.com/barb_brents/4/
Creative Commons license
This work is licensed under a Creative Commons CC_BY International License.